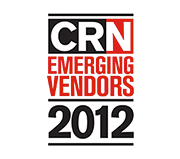 Our partner, Infor - the world's third-largest supplier of enterprise applications and services - has been selected as a 2012 Emerging Technology Vendor for the company's innovation and high value to resellers. UBM Channel and CRN's annual Emerging Technology Vendor list highlights the top vendors that deliver high-quality, easy to use technology and high margins to resellers. The companies featured in the list represent new opportunities for solution providers seeking new partner vendors.
Infor's innovative applications are specifically designed by industry with cutting edge technology that deliver an exceptional user experience and flexible deployment options. Depending on its 600 channel partners to help deliver the full value of its solutions, Infor is quickly becoming a top technology vendor.
Over the past year, Infor has averaged double-digit quarterly license growth. In addition, the company has added 3,000 new employees to its team, including 600 in product development and 150 in new channel partners.
Infor is honored to receive this recognition and will continue working to improve vendor-partner relationships in the software industry.
Learn more about Infor's visual manufacturing software product...