Excel Tips and Tricks / Business Reporting Question: Is it possible to link a table from an intranet/internet website to my spreadsheet?
Answer: Yes, by using the get external data from web option (Web query)
Why: You can use a Web query to retrieve refreshable data that is stored on your intranet or the Internet, such as a single table, multiple tables, or all of the text on a Web page. Then you can analyze the data by using the tools and features in Excel. For example, you can retrieve and update stock quotes from a public Web page or retrieve and update a table of sales information from a company Web page.
Applies To: Excel 2003, 2007, and 2010
1. Select Data, From Web.
2. Enter the URL where you would like to import the table from, and then select go.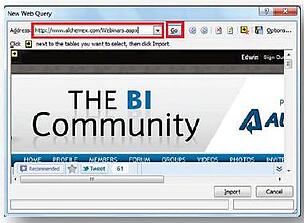 3. Select on the arrow alongside the table you wish to query. See below:
4. Select the location, (the cell you would like to insert the data in), of the data and select OK.
5. The data will be displayed as below:
The table/data can then be updated or refreshed by selecting Data, Refresh All. In this way the latest data will be displayed in MS Excel spreadsheet. MS Excel functionality can also be used to analyze or format the data.