We received a call for small business computer support this week when a Sage PFW ERP client ran into a challenge with Windows 7. Microsoft pushed out several patches back to back, and one of them brought forth an interesting bug. The effect was that Sage PFW ERP Client lost its mapping to the server. However, the workstation itself could still get to the mapped drive without any issue causing mass confusion. This is because in Windows 7 the mapping in "My Computer" and Explorer is UNC, not DFS. When Sage PFW ERP goes to the server, it still uses DFS which errors out with this bug.
The initial symptom includes the error message: "Sage PFW resource files not found" and "Language Not Defined Properly" which would lead me to believe the network connection is broken. But, when I went to My Computer, the mapped drives to the network server all appear intact and can be explored. So, I then assumed the Sage PFW ERP Client had corrupted somehow. So I reinstalled it and then encountered a new issue: I cannot point the client at the server drive; it does not seem to exist.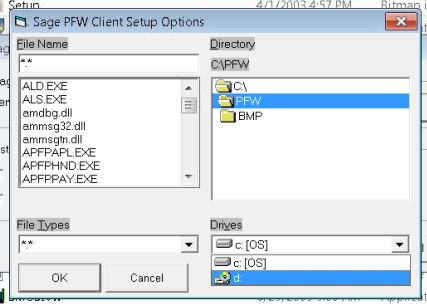 Hmmm… I recheck the mapped drives in My Computer and they are fine. I check in a command prompt, this looks fine too, so now I am stumped.
I go thru the event viewer and find that there are a ton of patches that came down from Microsoft all at once. Interesting. So, off to Google I go and search out the issues I am seeing. After several different sets of keywords, I finally hit the jackpot – A Microsoft support article that covers exactly what I am seeing. http://support.microsoft.com/kb/983620
So, I try the suggested temporary workaround, only to find that Windows 7 does not come with the dfsutil command. Back to Google I go, and locate a great webpage that walked me thru exactly what I needed to do and get for that utility to work. http://blogs.technet.com/b/josebda/archive/2010/05/02/where-to-find-dfsutil-exe-for-windows-server-2008-and-windows-server-2008-r2.aspx I download the file, install it, make the setting changes it describes, and then reboot the PC. For grins, I try to set the mapping on the Sage PFW ERP client again and it's still broke. I then run the command dfsutil /pktflush without any errors. Sage PFW ERP launches without any errors now.
My only remaining conundrum is the hotfix. It's untested, and has all sorts of disclaimers and legalese on it about the possibility of it breaking things. So for the moment I have not applied the full hotfix; I just downloaded it in case it is needed. I am considering instead creating a batch file that will run on startup and launch the dfsutil /pktflush command, as I know this works and did not break anything else.