Business Management Software Success Stories
---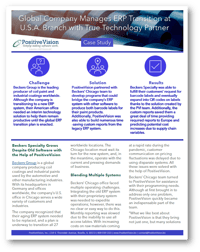 "PositiveVision has both an understanding of our business and the technology expertise we need. They offer multiple solutions and consult with us on the options . They are always there when we need them and never promise something they cannot deliver. Integrity is the reason we continue to look to PositiveVision as not just a vendor; they are our partner."
Spyros Douvitsas, Beckers Specialty
---
"PositiveVision is very reliable, knowledgeable, and they go above and beyond. They're very open to unique business situations and operations. They're very good at adapting to companies that aren't cookie-cutter. They're accessible, have industry knowledge, and are great problem-solvers."
Chris Clark, Carter Paper and Packaging
---
"PositiveVision was careful about bringing something in and making it work instantly. The implementation went very smoothly, and immediately, we started seeing improvements. In two months, PositiveVision had made a huge impact, and in six months, we had a business management software system which we should have had in the first place. When we started this process we were in one small building, now we have four buildings and have not added any new personnel, due to what PositiveVision and Platinum for Windows has done for us."
Bernard Tucker, AirTek
---
"We couldn't be any happier with our relationship with PositiveVision. Since the initial project began, we've given them responsibility for managing our entire IT infrastructure. We can trust that no matter what's going on in our system, PositiveVision's managed IT services will take care of it. Bob and the team at PositiveVision have taken care of our needs, put the company on the right track and they've given us peace of mind."
Bill Sliwa, Bernard Foods
---
"PositiveVision did what was best for our business, not what was best for the IT business or for themselves...They looked at what our wants and needs were and specifically tailored a business management software program relevant to what we wanted."
Curt Logan, Logan Graphics
---
"PositiveVision and Sage Platinum have saved us considerable time and allowed us to increase productivity. In fact, thanks to this implementation our shipping manager alone saves over 1,000 hours a year!"
Dawn Petry, GPC
---
"PositiveVision worked hard to keep the project on schedule and on budget. I was especially impressed with how their team was never intimidated by anything we threw at them. They listened to what we needed, reviewed what they understood, and then implemented the configurations. I would highly recommend them to anyone out there who may be looking for a technology provider."


Kathleen Flynn, Perkins Products
---
---
Testimonials

"PositiveVision has been instrumental in customizing Coordinated Claim Services L.L.P. business intelligence tools in order for us to evaluate our business and make better decisions. After working with PositiveVision we are able to more efficiently and effectively serve our customers and grow our business. More importantly they understand our business and give us the attention to detail that we need. They are the kind of business partner that will find the most efficient way to solve the problem. They have a wonderful staff that is outstanding and always available. Their response times are impressive and you can count on them to fix the problem regardless of how big or small the situation is. We consider them to be our trusted advisor and when we decide to build onto our system, they are the ones we will call."
Carol Stewart, Coordinated Claim Services L.L.C.
---

"Working with PositiveVision is easier than with other IT consulting companies and we would highly recommend them to anyone looking for an IT expert that is fair, timely and honest. They are knowledgeable in products and report writing and have helped us tremendously in the design and implementation of customized reports and ERP software. They are always there when we need them and they get the job done right, on time and for a fair price."
Joel Perlin, Chief Financial Officer at Sternberg Lighting
---

"PositiveVision has been a great partner for TT. Bob and his team have helped us with a number of projects, including integrating our internal purchasing and sales systems with Sage PFW for Windows. They know the product very well and come up with creative solutions to problems. The automation they have developed for TT saves us a significant number of hours each month. They also spent time training our IT staff so we can do more integration on our own, which will save us a lot of money in the future."
Sharon White, Director of Finance, Trading Technologies