SYSPRO - ERP Software for Manufacturing and Distribution Companies
SYSPRO provides manufacturing and distribution companies an ERP solution that is scalable and cost-efficient.
Why choose SYSPRO?
FOCUS - SYSPRO is designed to solve the challenges faced by manufacturing and distribution companies. It is continually updated to digitize your business, streamline your supply chain, and provide greater control and visibility.
EXPERIENCE - SYSPRO software has been implemented in more than 62 countries over the past 40 years. SYSPRO manufacturing and distribution industry experts speak your language and understand your pain points.
ADAPTABLE - With SYSPRO, you can buy just the modules you need, but it is scalable enough to grow and support the complex manufacturing and distribution operations. It has the flexibility to be deployed on premises, in the cloud, or both.
TRUSTED - With a 98% customer retention rate, SYSPRO is shown to provide users with a product that meets their needs throughout their company growth stages.
SYSPRO ERP Features
SYSPRO ERP features complete functionality required to streamline and manage your manufacturing and distribution operations. With Artificial Intelligence (AI) and Machine Learning (ML) built into the heart of the solution, rich insights, unidentified trends and anomalies in your business are identified, helping you to improve decision-making, and increase profitability.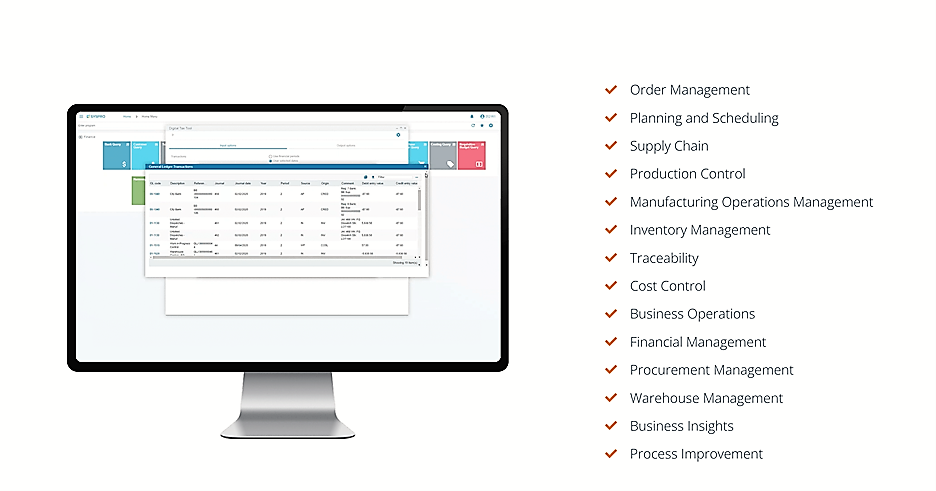 SYSPRO Cloud ERP
SYSPRO Cloud ERP provides the functionality of SYSPRO in the cloud. It is a flexible business solution that can be deployed quickly and accessed from any device, from anywhere. You can focus on your mission critical operations and let SYSPRO manage the technology. You get an end-to-end, scalable, and adaptable system that includes comprehensive security, services, and support.
CRM for SYSPRO
CRM for SYSPRO is a web-based, mobile-friendly, customer relationship management (CRM) system. Manufacturers and distributors who desire to be a customer-driven business can manage important sales, marketing, and customer service processes easily with this CRM. Learn more.

Since 2002, PositiveVision has helped manufacturers and distributors in the Greater Chicago, IL area (and beyond) streamline inefficient processes, grow revenue streams, and reduce costs. Our goal is to improve the performance of your business and be your long-term partner by providing you with the resources and expertise you need, along with exceptional customer service.