Recorded Broadcast: A 20/20 Look at Global Manufacturing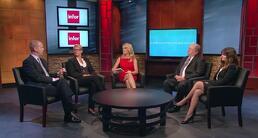 Manufacturing is in transition. Opportunities are emerging. But, at the same time, you're facing unprecedented pressures to speed production, enhance innovation, and increase product innovation and customization for customers. You need to improve supply chain visibility, fill skill gaps, and compete in global markets. Your operations must be ultra-efficient if you want to reach your profit goals. Is all of this possible?
Watch our pre-recorded broadcast featuring leaders from the world of manufacturing for a panel discussion on the state of manufacturing today—and the unfolding opportunities. Learn if the growing optimism is well-founded and how you can use IT solutions to seize every opportunity possible.
View this pre-recorded broadcast and learn:
• Is Cloud Deployment really the future?
• Is the new optimism in manufacturing fact-based or all hype?
• Are increasing customer expectations ever going to plateau?
• Can turning to technology help fill workforce skill gaps?
Simply fill out the form on the right to receive a link to the broadcast in your e-mail inbox today!