Are You Ready to Begin Your ERP Journey?
Proven Strategies for Selecting, Implementing, and Operating ERP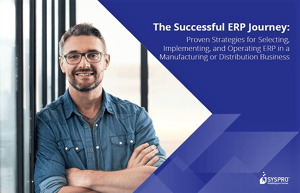 Implementing a new ERP system is a big event for your business. The objective-driven strategy outlined here will help make this event a positive, productive experience.
Inside, you will find:
Strategies for Selecting ERP
Thinking Through ERP Implementation
Operating ERP to Realize Benefits
Fill out the form to the right for instant download!
What Our Customers Say About Working with PositiveVision
GPC: "PositiveVision and our ERP system saves us considerable time, thereby increasing productivity. GPC's Shipping Manager saves 3 to 4 hours daily—all time that he previously spent inputting redundant data. That's a savings of over 1,000 hours a year! Information generated in production or orders is immediately available in shipping for us to view. The new ERP system is easier to use, information is easier to look up, and it is easy to do multiple things at once." - Dawn Petry, GPC
AirTek: "When we started this process we were in one small building, now we have four buildings and have not added any new personnel, due to what PositiveVision and our ERP system has done for us." - Bernard Tucker, AirTek