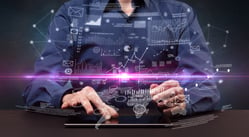 There are multiple plusses to having a recurring revenue model, such as having predictable revenue that remains largely stable into the future. Businesses with recurring revenue models experience less risk and more revenue predictability, while customers enjoy regular delivery for things such as standing pet food orders or box subscriptions.
But, there's considerable work behind the scenes that goes into creating a successful recurring revenue model, and the secret to growing that model is having the right accounting software programs to manage it. Check out these four must-haves to get you started creating a great recurring revenue stream.
Strong Processes for Both Taking and Fulfilling Orders
A profitable recurring revenue model relies on processes like these for success:
Sales and marketing, preferably through a CRM for automation
Order processing and recurring payment processing
Service delivery
If any one of these processes is flawed, the model will falter.
The recurring revenue management model works off the need or desire of customers to receive a consistent product delivered on a regular schedule. Consumables—think diapers or pet food—are perfect for a recurring model because they are consumed on a regular schedule and must be replenished accordingly. Processes ensure orders are delivered on time, every time, enhancing the overall appeal of the model.
Profitable Recurring Revenue Model
It's one thing to create a desirable product that can be shipped on a regular schedule. It's another thing entirely to achieve a profitable revenue model. For example, Netflix is able to achieve a profitable-revenue model thanks to its ability to deliver streaming services over the web. It can make deals with specific production studios and avoid the fees charged to cable companies for wired movie delivery. Your model must be profitable enough to sustain the service over a long period.
Pricing That Maximizes Revenue
A recurring revenue model will only be as good as its pricing. Price the model too high and customers will forgo convenience for cost savings elsewhere. Price it too low and you've priced yourself out of having a profitable revenue model. Price testing, comparative pricing, and a thorough study of the competition can help you evaluate pricing models to find the most profitable one for your particular products or services.
Recommended Capabilities
Systems to track orders, receive payments, and deliver goods or services must be flawless. Here's where system capabilities become necessary: Revenue-processing systems such as accounting software programs must be flexible enough to accommodate multiple-payment models, contract types, and billing cycles. Even if you choose a system that does what you need it to do to launch your recurring model, down the line you may need to make updates or changes. Thus, a flexible system is the best choice for recurring revenue success.
Build Recurring Revenue Management with the Right Accounting Software Programs
Finding the right accounting software program for your business needs is a critical decision, and not just for the success of a recurring revenue model. With the help of PositiveVision's Business Management Systems Optimization, we'll work with you to review your current business accounting software programs as related to your business goals and help you find areas where you can optimize ERP programs. Whether you need to increase business process automation or implement a custom sales order entry for a recurring revenue model, PositiveVision can assist in identifying and configuring accounting software programs to work with your designated or desired procedures.
When handled correctly, recurring revenue models can be immensely profitable. If your company is considering adding such a business model in 2021, let our ERP experts help. Talk to an accounting software expert now.