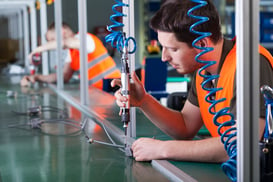 Baby boomers are retiring en masse, and the manufacturing sector is hungry for new talent. Millennials may just be the answer to combat the continuing manufacturing labor shortage. A Deloitte report showed that millennials, who are already emerging as leaders in technology and other industries, will comprise 75 percent of the global workforce by 2025.
But while the industry brings in new talent, a massive skills gap looms. For factory floor employees who work in a connected ecosystem, hands-on skills need to be accompanied by evolving digital skills. Recent research by Deloitte actually shows how dire the situation really is. The manufacturing skills gap is now anticipated to leave 2.1 million jobs unfilled by 2030.
The industry needs to find innovative solutions to attract skilled millennials to manufacturing.
Career Paths Key to Combat Manufacturing Labor Shortage
There is a unique situation happening right now in the US. For the first time, the number of open jobs outweighs the number of people looking for work. Yet the unemployment rate sits at 5.8%. Part of the problem is that youth still gravitate toward professional roles. Employers are finding it challenging to fill the roles for blue collar positions. Some industries, such as fast-food chains, are even offering candidates financial rewards to come for interviews!
The reality is that millennials don't want to be "burger flippers" for the rest of their lives. Manufacturers need to identify long-term career growth opportunities to attract millennials to entry-level positions.
Industry-Specific Training Programs
Industry education and training is one of the most overlooked critical success factors in not only attracting talent, but also in getting value from technological investments such as ERP systems. Because ERP systems are modeled after industry best practices in terms of concepts, terminology, and business flows, young aspiring manufacturers require practical education in manufacturing as well as all aspects of business, including financial management, supply chain, human resources, and inventory control.
Training and development should not only begin and end with new employees. Because digital transformation translates to competitive advantage, employees need to stay on top of the latest emerging technologies. Ongoing training initiatives can ensure all employees adapt to change successfully, while safeguarding any technological investment.
Flexible Scheduling and Benefits Important
As social distancing became the new normal, entire workforces needed to connect as well as collaborate remotely. This changed the world of work as we know it, as businesses began to realize that remote work is a possibility. For manufacturers, this is a bit tricky, as the industry still requires staff to be physically present on the factory floor. To attract millennials to manufacturing, a compromise can be made by offering flexible work schedules or even a four-day work week—depending on operational requirements. Where flexibility is not a possibility, other benefits can be offered to attract millennials to the industry.
It is always challenging to find the best candidates for available positions, and the manufacturing industry is no exception. When attracting millennials to manufacturing, it is crucial to stress that this industry can offer attractive career paths, continuing industry-specific training, and options that are important to this generation, such as flexible schedules and benefits.
Master ERP & Safeguard Your Business Software
The way we experience and interact with the technologically driven world around us continues to change. However, one thing remains the same—our desire and capacity to learn, grow, and improve ourselves every day; because of this, the global appetite for technological expertise is increasing at the expense of traditional business skills. The ongoing training, education, and certification your employees can receive through SYSPRO LearnIt will future-proof your company to the benefit of all involved.
Learn more about SYSPRO.
Download the SYSPRO LearnIt Brochure
PositiveVision offers refresher courses and in-depth training on business accounting and manufacturing software. Learn more by contacting one of PositiveVision's business management software specialists today. Call (800) 559-1323 or fill out our online form to request a call.