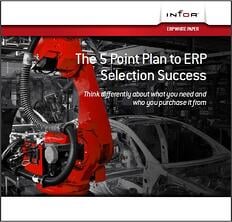 We no longer live in a business world where an Enterprise Resource Planning (ERP) system is optional. It is certainly a necessity to have an ERP solution that can help you operate, manage, and keep up with your business while providing customization, easy integration, and broad functionality. Business has evolved substantially since ERP was first introduced in 1990, and you'll need an updated ERP solution to meet your current needs.
Today's ERP solutions are designed for extended use across entire business enterprises. They include business intelligence and performance management software that further enhance capabilities that were not options in the past. In our ever-increasingly connected business world, ERP solutions need to help you connect to customers, suppliers, and trading partners. In order to determine what functionalities you need out of your ERP solution, it is important to start by figuring out what challenges you are facing and what will help your business to do even better.
How, exactly, do you select the best ERP solution? You need to:
Figure out your business drivers and why you need a new system
Establish your ERP strategy based on what you want to accomplish
Determine your priorities based on your software needs
Calculate the cost of ownership
Choose the right vendor
To learn more about this selection process and the five steps that are involved in being successful, download our whitepaper.