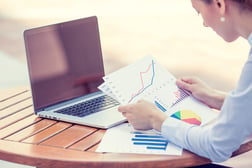 When a business is in startup phase, it likely only needs some basic business accounting software to meet its needs. As it grows, hires team members, and moves into a larger space, its accounting needs will grow too. At that point, the business will be dealing with a bigger payroll, more inventory, and a larger volume of invoices. Its taxes will become more complicated, too. The company management will need detailed reports to plan the annual budget. Once the company outgrows its startup status, it also outgrows its basic accounting software.
Time to Upgrade Your Business Accounting Software
The decision to upgrade a small business accounting software package to something more robust isn't one to be taken lightly. It means making the choice between the following:
Making changes in the accounting system in stages, or

Investing in software with the capability to manage the company's financials and improve its business operations.
An ERP is usually thought of as being part of a medium to large company; however, it is also appropriate for businesses experiencing high growth.
What Is the Difference Between ERP and Business Accounting Software?
The main difference between ERP (Enterprise Resource Planning) and business accounting software is centralization and sharing data. If a company uses one software program to run its accounting program and another one for its operations, it will end up with data silos. Someone will have to take the time to enter duplicate data, since the two programs won't communicate with each other. There will be problems accessing the data and preparing reports that management needs to make decisions. It will be difficult to ensure the data is accurate or tell exactly how the business is performing.
ERP Software Centralizes Data Across the Entire Business
An ERP centralizes financial data for the company. It also manages multiple core operations for the business efficiently, including:
Inventory

Production

Production Quality

Safety
The ERP takes charge of external processes for the business such as its supply chain, marketing, and sales. Most of these aspects include financial data. The ERP drives business intelligence.
Download this fascinating webinar entitled KPI - Measuring your Company's Vital Signs to Stay Healthy to learn more.
When to Choose ERP vs. Business Accounting Software
There are times when ERP makes more sense for a business than upgrading to another business accounting software package.
You want to collect data from multiple sources.
The ERP can provide precise, reliable data about profit drivers and where the company is wasting money. Armed with this information, you can make better predictions and manage the company more effectively. It's easier to make decisions with confidence about where to allocate company resources to specific products and directions for growth.
You want scalable software.
Upgrading business software is always a time-consuming and costly exercise. The larger the company grows, the more complicated and expensive it is to perform this exercise. If the company continues to grow, ideally the software would grow with it, so it only needs to be upgraded once.
You want to move from recording transactions to improving business performance.
Business accounting software does a very good job of recording transactions. It also produces financial statements for the company that show management the company's past performance.
To effectively predict the company's future performance, it needs financial software with the capability to share data with the entire organization. ERP can indicate opportunities for growth that accounting software would miss. If the goal is to provide insight, ERP is the better option.
SYSPRO ERP from Positive Vision gives your business a customized solution based on your company's needs.
Upgrade your ERP with only the specific modules you need. Choose from more than 50 available modules to build a custom ERP to suit your business needs. Add more modules or swap them out as your business grows for the ultimate in scalability. Discover more about our solutions by contacting us today to speak with a product expert.