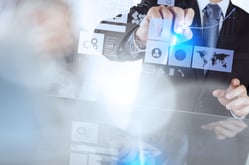 It's no secret that 2020 challenged businesses in many new and unexpected ways. From deeply interrupted supply chains to a near overnight switch to remote work, 2020 made organizations take a critical look at processes to uncover where they were more resilient than expected—and where significant work was still needed.
One area of certainty in all the upheaval was technology. The events of 2020 pushed many businesses to speed up digitalization and restructure work. Workplaces were shifted to remote home offices, and those that could not close were rapidly adapted for safety and social distancing measures. As companies focused on managing basic operations and processes in times of great uncertainty, business intelligence technology enabled companies to adapt to rapid changes and make plans for the next normal.
New Trends Will Push Business Forward
Some business intelligence trends have stayed constant over the past several years, such as master data and data quality management, data discovery, establishing a data-driven culture, data governance, and self-service BI. Yet, these emerging trends are predicted to dominate 2021. Let's take a look.
Operationalizing Artificial Intelligence
Artificial intelligence is growing from an emerging technology in pilot programs to an operationalized entity. According to Gartner, up to 75 percent of organizations will move their AI initiatives from pilot to operation by the end of 2024.
Today, AI is playing a key role in transforming business processes, optimizing manufacturing activities, and assisting in decoding information that facilitates business growth. Its impact has been felt most strongly in the healthcare sector, where AI works alongside researchers to interpret and understand the massive amounts of COVID-19 data from multiple sources. Machine learning algorithms enable AI to excel at interpreting growing volumes of data, assisting in times of crises when information interpretation is crucial.
Unprecedented Ecommerce Growth
Perhaps the most obvious growth during 2020 was that of ecommerce. From maneuvering closed stores, personal quarantines, and government-mandated lockdowns, ecommerce became the sole way many were able to get necessary supplies—or treat themselves to some small bit of fun.
With the rise of online consumer spending, however, comes the rise of competition in the ecommerce space. Business intelligence plays a key role in helping organizations analyze and understand rapidly changing consumer behavior using real-time insights. Ecommerce businesses can then use the data to make the decisions necessary to move the organization forward.
Remote Work Becoming the Norm
What was initially thought to be a short shift to remote work in mid-2020 has become a long-standing trend, due both to ongoing COVID-19 concerns and companies extending new work-from-home policies as a permanent option.
Remote work is an excellent solution for keeping employees safe while also reducing the need for a large real estate footprint and empowering employees with more options in a work-life balance. But it does come with the very real challenges of privacy and security. New protocols and processes are necessary to ensure data remains protected and companies aligned with compliance requirements.
Flexible Supply Chains
If there's one group that faced significant disruption and challenge during COVID-19, it was supply chain. With international ports shut down and restrictions placed on materials from certain countries, some supply chains saw a jump in sales while others couldn't get the necessary raw materials to complete their orders.
It all built up to the need to shift from material requirement planning to demand-driven planning. With an added reliance on demand instead of solely forecasts—all powered by business intelligence tools—this new tactic creates a more flexible supply chain with better control, using a wider array of data to make more informed decisions.
Adopting Industry 4.0
Industry 4.0 is revealing itself to not be as complicated as companies previously thought, and many are leveraging its customizable nature. Due to being a combination of technologies, they're able to select only the solutions that will be most impactful for their business.
Technologies which are part of the Industry 4.0 stack are known for their ability to enable agility and automation, empowering businesses to more easily maneuver volatile economic situations.
Learn more about actualizing Industry 4.0 in your business. Watch this on-demand webinar from SYSPRO experts to find out how cutting edge technologies will drive efficiencies in the modern factory.
Leverage Business Intelligence Trends With PositiveVision
Uncertainty is likely to continue long into 2021. But business intelligence applications, practices, and technologies that can drive the collection, integration, analysis, and presentation of business information can help mitigate the fallout.
Knowing the right business intelligence solutions to choose or upgrade in your technology stack can seem like a daunting process. PositiveVision has a proven track record of helping businesses streamline inefficient processes, grow revenue streams, and reduce costs by leveraging technology solutions such as business intelligence, ERP, CRM, and more. From finding the right software to implementing success, let PositiveVision partner with you in these critical business decisions and leverage business intelligence for the long-term success of your organization. Talk to a business intelligence software expert now.