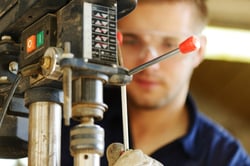 If your company produces multiple units of your products daily, you know the importance of manufacturing quality control. You'll see higher scrap rates if one part of your process is responsible for a product defect. If left uncorrected, your company's bottom line will suffer. Putting a quality control program in place is an effective way to resolve these kinds of issues.
Examples of Manufacturing Quality Control Best Practices
These quality control best practices for automating, inspecting, and improving your products will assist your team in finding and correcting issues.
1. Start with a Plan
Suppose your team doesn't have a quality control plan. In that case, it doesn't know how the company will ensure its products meet quality and customer expectations. Many companies write a Quality Control Plan outlining the following:
Quality Control goals

The company's quality standards

The requirements needed to reach the standards

The procedures that will be used to confirm that the required criteria have been met
2. Automate Your Facility
Automating your manufacturing facility means your company can produce higher-quality products more quickly and economically. Automation improves product quality in these ways:
Eliminates the Human Error Factor:

Automated systems eliminate the possibility of errors due to human limitations.

Increases Accuracy:

Multiple products require exact measurements and placements during their manufacturing process. Automation increases the accuracy of your company's machines to give you consistent results.

More Visibility:

An automated system's triggers and sensors can monitor your company's machines to draw your team's attention to any malfunctions leading to defects.
3. Inspect Product Samples from Each Batch
Inspecting products regularly allows your team to confirm quality during various stages of production. Your inspection should include examining, measuring, gauging, or testing the product's properties. The results must be compared to a list of set requirements.
Inspections should be performed starting with the raw materials and components in the pre-and post-production stages. Your team should regularly inspect partially produced products to find potential defects more efficiently.
4. Trace All Activities in Your Production Processes
This is a crucial component for manufacturers to take control over their process (and product) quality. Introducing a manufacturing quality control system will allow your company to trace all the steps in your production process, resulting in more timely reporting. Your team members will be able to:
Track suppliers' performance

Predict patterns

Improve production run scheduling

Troubleshoot product quality issues

Improve customer service
Downtime and product defects will be reduced, along with the amount of waste.
5. Review Your Findings to Improve Quality
Gather the findings and make a plan to improve. Analyze the data collected and reevaluate your processes and your products. As your team goes through this process, keeping compliance and applicable regulations in mind is essential.
Then, repeat the process. Each time a manufacturing quality control cycle is performed, it leads to a higher-quality product. Customers are happier, fewer products are returned, and your company's profits ultimately increase.
Let PositiveVision Help You Choose the Right Software
When you are focused on manufacturing quality control in your business, finding the right software for your small-to-midsized manufacturing business is crucial. PositiveVision assists our clients in choosing the best software option for their current needs and is flexible enough to adapt as their business grows.
We understand that every client we work with is unique. PositiveVision constantly keeps your business goals at the forefront throughout. It doesn't matter whether you use SYSPRO ERP or SAGE 300 ERP Software—we always put our clients first.
Would you like to discover more about how automating your facility can improve manufacturing quality control? Contact us to speak to a product expert today.