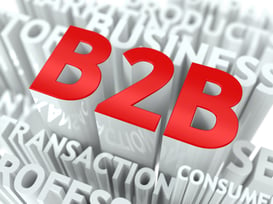 Operating during the COVID-19 pandemic has shown the spotlight on some serious operations' weaknesses in manufacturing and distribution facilities. A majority of manufacturers said they were negatively affected by supply chain disruptions during the pandemic, according to a survey conducted by SYSPRO. Many of them are looking to simplify their supply chains to reduce the risk of something going wrong. To affect these types of changes, the majority of survey respondents are considering B2B eCommerce. B2B buyers and sellers said they preferred the digital "self-serve" way of interacting (McKinsey).
Why Does B2B eCommerce Make Sense for Manufacturers?
B2B eCommerce means that manufacturers can sell their merchandise directly to customers. It opens up a larger pool of potential buyers for the manufacturer. B2B eCommerce also provides manufacturers with valuable information, such as which products are most popular with customers. When the manufacturer does not have to wait to find out which items are selling well from its distribution network, it can respond more rapidly.
The manufacturer can boost production of products that are in demand.

It can slow down production of items that are not selling well.

The manufacturer can consider "bundling" some slower items with ones that are doing well to move them out of the warehouse.
Digital self-service is a trend that is here to stay. In 2016, 20% of manufacturers used it in their business. By 2019, the percentage had jumped to 30%. Seven out of 10 B2B decision-makers said they preferred either digital self-service or dealing with a live customer service representative remotely when purchasing products.
SYSPRO Makes Setting Up a B2B eCommerce Sales Channel Simple
At first glance, setting up your eCommerce sales channel can appear daunting. You need to set up your website so that it includes your product catalog. The website and the online product catalog must be easy to update. Both need to be user-friendly, so they can be easily navigated using a desktop computer, a cellphone, or a tablet.
The website needs to add the appropriate taxes to orders from different jurisdictions. Finalizing a sale should be easy and convenient for the customer. When an order is received, it should flow directly into your company's ERP system for processing.
In that spirit, SYSPRO recently released the Online Business Pack for SYSPRO, a complete, turnkey eCommerce solution for manufacturers and distributors. It's a great example of the power of their ISV Partner program. They work with ISVs to certify that their solutions interoperate with SYSPRO, and thanks to that program, they were able to assemble this solution. It brings various best-of-breed software into an integrated package that, of course, plugs effortlessly into the SYSPRO ERP. Learn more by watching this webinar: Integrated eCommerce for SYSPRO Users.
However you get online, though, it's clearly becoming important for manufacturers to open a channel directly to their customers. Does that mean traditional distribution channels disappear? Not at all! Distributors and other channel players establish important relationships with customers to advise on and assemble more complete solutions, helping customers understand exactly which products will meet their needs. They're a critical piece of a manufacturer's go-to-market strategy.
But the market is always changing, and manufacturers need to make sure they're in sync with the trends. Thankfully, getting an eCommerce presence to sell directly to end-users doesn't have to be a difficult, time-consuming process. With turnkey solutions, manufacturers can be ready to sell directly online in weeks, not months or years.
PositiveVision can help you find the right ERP for your B2B organization. We've been helping companies like yours get the right business software in place to support a thriving operation. Contact us to speak to an ERP software expert.