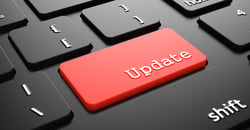 Many businesses seek a solution that will allow them to run their financial, operational management, customer relations management, human resources, payroll, and project management under a single software option. PositiveVision has been pleased to work with customers who have expressed these needs to deploy and train their team members on Sage 300 software.
Sage 300 gives customers the flexibility to choose from several modules. Customers select the applications that best fit their needs without adding any frills they don't want. Sage 300 gives them scalability, so they can make changes as the business grows and changes. This robust ERP also integrates seamlessly with multiple business management software applications. Sage 300 2022 offers some impressive new tax, password, and document-sharing features to keep it at the top of the ERP list.
New Features Respond to Modern Business Changes
With the Sage 300 2022 updates, the software increases its ability to support all types of businesses but especially e-commerce companies.
Here are some highlights of the 2022 updates:
1099 tax reporting has the latest tax codes

Vendor tax numbers are more secure

User passwords are more secure

Documents can be emailed using Microsoft 365

Job-related documents can be entered in Accounts Payable through web screens
New Codes for 1099 Tax Reporting
The Accounts Payable system supports 1099 tax reporting requirements for the tax year 2021.
Increased Security Protocols
Sage improved the security in the existing system to better secure both social security numbers and corporate tax ID numbers. In addition to adding *** in front of all but the last four digits, the company has now made the fields locked and unable to be changed once entered. To make changes, users must be assigned to Tax Number Maintenance security authorization for Accounts Payable. This is a new feature. Users are not added by default but must be manually assigned by a system administrator.
Advanced Security for Passwords
During setup, if you must specify a password length, it must now be 8 characters long. On the Advanced Security Settings screen, you will also find several new features to make passwords more secure. This includes a new option that lets you require that passwords include at least one of each of the following:
Lowercase letter

Uppercase letter

Number

Special character (such as * or #)
Send Documents Directly using Microsoft 365
You can now email documents directly from Sage 300 using Microsoft 365. To do so, during setup choose Microsoft Graph in the new Email Service field on the Email tab of the Company Profile screen.
You can also send test emails from Microsoft 365 on the desktop version of Sage 300 (this feature isn't available yet on the web cloud screens).
Sage 300 2022 Security Upgrades
In addition to improving password and tax identification number security, Sage has also made many technical improvements to its secure infrastructure. Many of these improvements run "behind the scenes" and aren't visible to the average user. However, if you are updating or upgrading from a different version of Sage, you may need to make some modifications to your system.
Sage 300 Features List
Sage 300 offers an almost limitless customizable system. The base system itself is like Sage 100 but with a twist. A robust ecosystem of third-party additions allows the average company to build out a nicely tailored system that can support expansion and growth across borders.
With Sage 300, you can:
Automate your accounting.

Sage 300 offers many time-saving automation features that help you catch mistakes as well as keep up to date with standard accounting needs. Conduct daily transactions, record general ledger entries, manage payroll, and reconcile banking and credit card accounts easily in the financial dashboard.

Do business internationally.

Sage 300 2022 comes fully featured with tools to help you conduct business globally. These features include currency converters, translators, and more, so whether you're doing business in Peoria or Paris, you can use your Sage 300 dashboard without a problem.

Make your business scalable.

The Sage ecosystem includes Sage-based products for almost any need: CRM, HRMS, field service, inventory management, and more. Additional third-party apps are available in a huge super library of add-ons that provide many useful functions.

Manage inventory easily

Sage 300 adeptly handles multiple inventory locations, enabling you to track inventory throughout all your company's warehouses and ship from multiple locations to fulfill orders.
Sage 300 Designed for Scalability
Many companies find that as they grow, they outgrow their software. What worked well when they were a one-warehouse location no longer works when they have warehouses in multiple states or even multiple countries.
Sage 300 is an ERP system designed with flexibility in mind. As your company grows, and the demands on its software change, Sage can change along with them. This includes the ability to:
Fully support international commerce through multi-language and multi-currency features

Add numerous platforms and additional software to the basic Sage 300 package through native connectors and API integrations

Easily add users as needed in any desired location through the cloud
Sage 300 is software that can accommodate any size or scale and can quickly ramp up to support fast company growth.
Sage 300 Software a Long-term Option
"Growing pains" are often a signal to search for new software. Another situation that often prompts companies to seek new software is their frustration with the lack of support for aging platforms.
As software ages, it is often updated or simply phased out in favor of the latest edition. This presents many challenges to businesses running such legacy systems. Over time, fewer programmers focus on these aging software platforms because fewer companies use them, which then puts the remaining users at a disadvantage. Making any changes to them becomes tricky, like patching a leaky boat. Often, it grows into an impossible situation in which employees complain that it takes longer to use the legacy system than it does to use spreadsheets.
Sage is here to stay. The company was founded 30 years ago and continues to update and promote Sage 300, as evidenced in Sage 300 2022. The changes made to Sage 300 this year only underscore their commitment to continuing support for this important enterprise-based system.
This makes Sage a low-risk investment when choosing your ERP vendor. With a solid 30-year history and continuing updates and improvements to their software, as exemplified in Sage 300 2022, it is likely that the software you invest in today will remain viable for many, many years to come.
Sage 300 2022: Enterprise-Level ERP That Keeps Improving
Sage 300 2022 is an enterprise-level ERP packed with features for customers looking for flexibility and scalability for their operations. It combines a full range of accounting and financial management features with the capability to monitor all facets of your operation. The new features in the 2022 update highlight the reasons why Sage 300 has been meeting the needs of business owners for more than three decades.
PositiveVision is Your Technology Partner for ERP Upgrades
At PositiveVision, we focus on assisting manufacturers and distributors with maximizing technology. Our team has the expertise required to streamline information technology for customers in the Chicago area. We take the time to learn about each customer's business to offer solutions tailored to their specific needs. Contact us today to speak to one of our product experts about Sage 300 2022 or explore any customized software solutions.