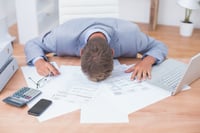 It's almost hard to believe that 2020 is coming to a close. But Finance and Accounting professionals are already looking toward to the end of the year. For some, preparing for year-end close won't start until the end of December. But that can involve a mad dash to review data stored in accounting software, contacting vendors to verify information, and then closing the books.
Even though it's still November, taking a few steps now can set up a much smoother—and less stressful—year-end close.
Year-End Close Processes Can Uncover Common Problems
Whether your fiscal year closes in conjunction with the calendar year or follows a different schedule, there's still information to gather for income tax reporting and other financials. If you do close your fiscal year on December 31, there's a lot to accomplish all at once, and issues will only slow down the process. Some of the most familiar issues finance teams will encounter include:
Outdated or inaccurate financial data
Errors that should have been uncovered during month-end or quarter-end close discovered just now
Communication breakdown between departments
Updating Inaccurate or Outdated Financial Data
Keeping information accurate and clean seems like it should be easy with an ERP solution or accounting software. It can be, when it involves proper management from those inputting the data. You may choose to start ensuring that financial data is not outdated or inaccurate by marking inactive accounts.
Whether they're customers, vendors, or items, leaving inactive accounts unmarked in your accounting and/or ERP software can negatively—and quickly—impact your data accuracy. Marking a customer, vendor, or product that you no longer work with or sell as "inactive" removes them from showing up in daily accounting tasks while still saving the records for historical purposes. It's important that you not delete an account unless it was created by mistake. Deleting an account that was inactive this year but used last year will render historical data incorrect.
Fix Errors Before They Become Problems
Month-end and quarter-end close processes throughout the year should identify issues and errors early on, making year-end smoother, even if it is still a lot of work. Unfortunately, things can easily slip through the cracks of companies who keep close processes in "institutional memory" —more commonly known as "the way it's always been done" —instead of documented standard operating procedures (SOPs).
Setting SOPs for financial close helps by tracking progress and establishing clear benchmarks. With clearly documented steps to follow, financial teams and leadership gain real-time insight into the process. This gives them the ability to establish where tasks are bottlenecking, as well as how long each task takes, and the various dependencies involved. Documenting this information also comes in handy when you choose to automate some or all of your close process with accounting software.
Reconnecting Communication
Completing the close process by following "the way it's always been done" also contributes to teams and departments across the business forming data silos that prevent the sharing of relevant data with those who need it most. Data silos minimize the opportunity to cross-check data for accuracy. This could create errors you'll need to address later on when it's more difficult to correct.
Building an integrated business planning approach that aligns strategy, operations, and finance by connecting planning functions helps break down these silos. Your ERP can help facilitate appropriate data sharing, as each department likely generates massive amounts of data that may or may not be relevant or helpful to the close process. Technology can ensure that relevant data is shared appropriately within accounting software solutions, laying the foundation for a more collaborative process.
Plan and Prepare With Help From PositiveVision
No matter how smoothly your year-end process typically goes (or doesn't go), getting started now on preparatory tasks can make the final process even smoother this year. Plan ahead with data updates to your ERP and accounting software, making sure the right people have access to the right data, and stick to your plans. If you haven't automated processes yet, review your SOPs to uncover bottlenecks and task dependencies so you can begin automation for closing 2021.
Finding the right accounting software solution to share the appropriate data and automate the right processes for your organization can go a long way toward preparing a smoother close process, whether month, quarter, or year-end. As a full service accounting software consulting firm, PositiveVision is committed to helping small and mid-sized businesses put the right software in place to be more efficient and more profitable. Let us show you how easy it can be to leverage ERP technology and other business software solutions now for the easiest year-end process yet. Talk to an accounting software consultant now.