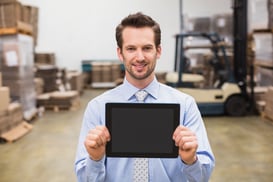 We often recommend distribution and manufacturing software solutions to help businesses succeed in lower costs and increasing profits. But it's not enough. In the uncertainty and chaos of the past months, the usual paradigms haven't been enough to ensure success. One of the keys to getting back on track for future business success is building better relationships with customers, prospects, and suppliers.
But first, we need to address the current situation. How much chaos did the pandemic create, really? To answer this question, SYSPRO conducted a large survey of manufacturing and distribution executives in August 2020. The results were eye-opening. Six out of ten said they'd experienced supply chain disruptions. Nearly half (47%) couldn't function because staff had to be on-site to access the software they required. And just under a quarter (23%) were worried that parts shortages would prevent them from meeting market demand with enough supply.
Overcoming chaos requires accurate, reliable, consistent information. So, naturally, manufacturing and distribution executives have responded by accelerating their digital transformation efforts. After all, one of the main goals of digital transformation is to use distribution and manufacturing software solutions for accurate, insightful, actionable information on which to base decisions. According to the Fictiv 2021 State of Manufacturing Report, 91% of manufacturers increased their investment in digital transformation over the past year.
Key Risk Factors Facing Manufacturing and Distribution Operations
SYSPRO's eBook, Chaos vs. Control: A Tactical Guide to ERP, discusses six main risks manufacturers and distributors face now. It also sets out how decision-makers successfully deal with them using ERP. How many of these key risk factors are an issue for you in your business?
Digitizing your Company:

This is a complicated, time-consuming process necessary for your company's survival. It will interfere with your day-to-day operations at times and bring with it some risk.

Human Resources:

The economy is starting to operate on all cylinders following the COVID-19 pandemic. More people will expect to work from home at least part of the time. The good news is that manufacturers will have a larger pool to choose from when looking for talent, as long as the employee does not have to be on-site to do their job. Unfortunately, other employers will be expanding their search parameters too. Competition for the top candidates will be fierce.

Scalability:

Market conditions can change quickly. Savvy manufacturers accept this and stay nimble so they can adjust their product runs up or down accordingly.

Implementation:

Managers need transparency in the supply chain so they can monitor operations closely. They must track production, labor, materials, delivery schedules, and more. Planning trumps putting out fires from a crisis any day.

Staying Competitive:

Modern manufacturers are feeling pressure to produce quality goods. Increasingly, manufacturers must customize orders. Customers are also demanding deliveries within tight turnaround times.

External Conditions:

Many events are outside of a manufacturing or distribution company owner's control. No one could have predicted the global pandemic or its effects. The same is true of natural disasters or the ups and downs in the world economy.
Communication and Accurate Data Are Key Factors to Lower Risk
The risk factors listed above have two elements in common. The first one is that they are complicated issues. You will need to have good relationships with several stakeholders if you want to mitigate any of them. Before a manufacturing company can start advertising nationwide (or further afield) for job candidates, the human resources department will need to write updated job descriptions for remote positions. Managers and human resources need to decide about work hours, the onboarding process, and compensation. Managers also need to share any concerns they have about supervising remote employees.
The second common thread is timely, accurate, consistent data. You've probably heard many times from pop psychologists that the key to strong relationships is good communication, and that holds true in business as well. But good communication is more than just sharing information; in business, it requires sharing accurate, timely information. People can't make good choices in a void. Modern business requires data-based decision-making, which, in turn, requires a single, trustworthy version of the truth.
ERP Gives You Transparency in Critical Systems, Fosters Building Relationships
The ERP is the foundation for digital transformation. It serves as the information hub of the company, where users can access trusted information. Managers and employees can use these facts for building relationships with customers, suppliers, and others. A strong manufacturing ERP gives your organization an important first step toward positive communication with stakeholders. It allows you to address the key risk factors facing managers.
PositiveVision has been assisting manufacturing businesses for nearly two decades. We help our clients work well today and prepare for the future. Are you looking to connect your ERP, or would you like to add a new one to your business? Contact us to speak to an ERP expert now.