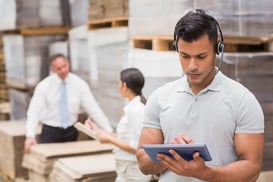 Now that we are finally moving toward a post-pandemic business environment, it is not the time to sit back and congratulate yourself for making it through a challenging time. The COVID-19 pandemic saw consumer practices change dramatically. People have been isolating themselves to avoid becoming ill, and the demand for goods has only increased. Shoppers turned to online retailers and expected that their purchases would be delivered to their doorstep quickly. It has proved challenging to respond to heightened customer demands. Stock-outs and shipping delays have been all too common due to heightened demand.
The tips listed below will help you update your warehouse management strategy. It is crucial to be proactive and evaluate your inventory processes and other practices regularly. This strategy will improve efficiency in the warehouse.
Warehouse Management Strategy Tips
Gather information from your key warehouse employees.
To find out what the specific "pain points" are in the warehouse, ask the employees who work in that environment. Make a point of asking the employees with the following job functions what they think the difficulties are in the warehouse:
Interacting with customers

Interacting with suppliers

Loading and unloading shipments

Picking stock

Stocking shelves
Ask them specifically which tasks take up most of their time during the workday. Find out whether there are any specific processes they can suggest that would increase efficiency.
Change your warehouse layout to optimize product placement.
Consider which products are moving most often off warehouse shelves and optimize the warehouse layout accordingly. Group products that are frequently sold together in bins that are close by so your pickers can save steps when assembling orders.
Move seasonal items or those that are no longer in demand away from heavy-traffic areas of the warehouse to make room for more popular ones. It is important to optimize the available space based on product demand throughout the year to increase efficiency in processing orders.
Consider whether you are using vertical space to your best advantage.
A warehouse only has a limited amount of square footage available. Warehouse managers are challenged with storing a growing number of products in a fixed amount of space. It pays to get creative and use all the available vertical space with shelves and bins stacked on top of each other. These should be used for products that sell less frequently so your pickers focus most of their time and attention on items stored close to the warehouse floor. Your team members should be able to access bestsellers quickly to fill customer orders.
Count on warehouse management software to automate processes and provide valuable insights.
The right software can help you gain control over your warehouse inventory. It provides detailed information about which items are selling well and the ones that are less popular with customers. This valuable tool gives you the insight required to manage costs while ensuring customers receive their orders in a timely manner.
SYSPRO Analytics Business Intelligence Software from Positive Vision Gives your Business an Edge
SYSPRO Analytics is a robust software that allows your team members to build reports using SYSPRO data. Employees can access the data required to implement an updated warehouse management strategy. Your workers will be able to determine which items are selling well and those that are lagging. This valuable data allows your team to take advantage of opportunities for more competitive pricing and more efficient scheduling for shipping and deliveries.
Our SYSPRO experts would be happy to speak with you about how this BI software can contribute to improved operations and your company's success. Contact us today to take the next step.