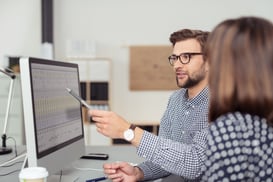 ERP software (Enterprise Resource Planning) has been around a long time, but technology and functionality have changed tremendously. That means companies must move to new, upgraded systems from time to time. However, businesses shouldn't invest in new ERP software based on its functionality alone. There must be a financial benefit to the company to justify moving forward.
Cost-Benefit Analysis is Required
Interestingly, 90% of manufacturing firms have implemented ERP solutions to improve resource planning, drive efficiencies, and boost organizational growth. A Panorama Consulting study showed that 92% of firms felt that implementing their ERP project was a success, and the other 8% were neutral.
Although Aberdeen Strategy & Research found that the total cost of ownership ranks third in top ERP selection criteria, business leaders still must establish an economic case for implementing ERP across their organization. Any significant business purchase must be weighed against the expected return on investment (ROI).
Introducing a new ERP software system will increase profitability when the ROI exceeds the total cost of ownership (TCO). Still, there are a few considerations one must consider beforehand.
Consider the Costs
Acquiring ERP software systems and deploying them across the workforce involves costs businesses need to consider. If existing systems are in place, integration work must be performed to sync them with the new technology. It may also be necessary to allocate capital resources to adapt the solution to new business models. Invariably, conversions and consolidations of management information occur, but phasing out legacy procedures and systems involves costs and time-consuming data migrations.
Upon installation, there are ongoing testing costs to ensure the full functionality is available to the user. It may be necessary to review and upgrade your ERP periodically, and there may be a need to develop the team to adapt to the new procedures. Risk management best practices include accounting for unexpected expenditures.
To recap, costs of implementing ERP software include:
ERP software investment or monthly SaaS fees
System integration
Customization
Data migration
Testing
Training
Evaluate the Benefits
Adding new functionality through upgraded ERP software can bring many unexpected benefits and not all of them are tangible or easily estimated.
Implementing ERP software solutions and streamlining resource management processes can simplify procedures and reduce rework and manual handling costs. Information is more readily available to decision-makers, who can monitor performance in individual departments and across the organization, which allows for better decision-making.
Manual tasks can be automated to make deliveries faster and reduce errors on the floor. By recognizing inaccuracies and mistakes, all-encompassing systems ensure a high level of reliability, enabling key workers to focus on value-adding tasks.
The most significant advantage of ERP systems is that they bring together all parts of the business into one system. Using an ERP software system makes it simple to record and report data across various functions, thereby allowing monitoring and troubleshooting to run more efficiently. Organizations can set realistic expectations regarding cost and timeframes with precise data in their hands.
Keep ERP Software Expectation Realistic
ERP software systems won't change business performance overnight, and they may not be the solution to all business problems, but they can facilitate change. A conservative approach to projecting the economic benefits of new ERP systems and processes makes sense because unrealistic goals can adversely affect perceptions of the implementation's success.
In today's challenging economic climate and with budgets being constrained, it is crucial for businesses to calculate a worst-case scenario and a likely estimate of the cost of ERP investment. Executives can decide whether to invest in ERP based on the strategic context of project goals.
Getting the Most Value from Your ERP
Implementing an ERP software system gives today's businesses a positive ROI if the company is constantly evaluating and updating its business processes. PositiveVision works with many Sage 300 ERP software users to add additional functionality, increase automation or integrate it with other software systems. When it is time for new ERP software, we recommend SYSPRO ERP for manufacturers and distributors. It is a scalable and cost-efficient solution as you can buy only the modules you need to get a customized system to suit your company's needs. Deploy it on site, in the cloud, or both.
To learn more about these ERP software solutions and find out which option would be the best fit for your business, contact us today to speak to a product expert.