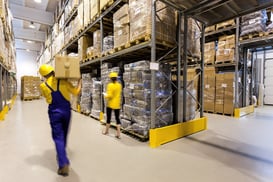 Businesses are used to managing known supply chain risks. Transportation and supplier issues are something they can predict will happen at some point and take steps to mitigate their impact. Other risks, such as a global pandemic or a natural disaster, are the type of low-probability, high-impact events that companies likely did not foresee. Many did not plan for them and don't know how to manage their supply chains faced with the ongoing pandemic threat, natural disasters, and disruptions that have taken place globally. Supply chain management is more challenging than ever in the face of these events.
According to McKinsey, the value of goods traded globally has tripled to more than US$ 10 trillion since 2000, and because of recent events, they are having to re-evaluate supply chain strategies. Unfortunately, the state of disruption to the current landscape has never been contemplated and very few strategies exist to navigate it.
How Supply Chain Management Has Changed
The following points illustrate ways in which supply chain management has changed for businesses recently.
Increasing Resilience Is the Main Goal
Many analysts and consultants are pointing out that supply chain resilience is going to be a primary goal, and many businesses are planning to increase resilience across their supply chain. Resiliency is defined as the ability of a supply chain to cope with unforeseen events with minimal disruption and quickly recover after it occurs. The key is continuity of supply, production, and delivery of products and services to customers.
For some time now, strategy has dictated that securing supply is the number one priority, and the relationship can be built after that, once the common goal has been achieved. Control of the supply chain is based upon transparency and availability of information—a business can work around issues provided that they have the information early enough. Single supplier supply chains are always at risk of unforeseen events controlling delivery, and often there is no alternative options to assist a work around. The move to a dual or multiple supplier model will be critical to meet the supply chain demands should any further disruptions occur.
Companies Are Reviewing Their Sourcing Strategies
Companies need to review their sourcing strategies to avoid major issues. This means identifying and securing alternate sources for all risky materials. The alternate sourcing strategy should consider suppliers from different parts of the world as regional issues often affect supply. Sourcing a product from two suppliers in the same region would not mitigate this issue.
Another trend that is becoming prevalent is to engage with suppliers in a digital supply chain. The reason for this is that resilient supply chains will require flexibility to enable switching of production lines and capacity, as well as sourcing of alternate parts when needed. Suppliers will be able to log into a portal to update the current status of orders and their delivery dates so that slippages are immediately identified and communicated. A digital supplier portal will be ideal for the real time information required to manage the processes.
Businesses Face Challenges with Inventory Levels
The pandemic has shown that companies struggle to have the correct distribution of parts in the inventory holding. This will also limit their ability to predict what will become the next scarce item and prevent line stoppages. Most companies manage inventories by focusing on safety stock models in their requirements planning. But there are different forms of stock that manufacturers need to manage.
FORM
Raw Materials: supplier owned
Raw Materials: company owned
Work-in-progress inventory
Finished goods in warehouse
Finished goods in the channel
Consignment stock at the customer
Pre-allocated inventory
Source: www.supplychainshaman.com
Although companies have resisted in the past tying up capital in inventory, it makes sense to do so when shortages and disruptions are apparent. Inventory buffer sizes need to regularly be assessed as increasing a buffer in the wrong place locks up capital but may not alleviate the risk. It may also be more important to reposition inventory in certain regions.
Without a thorough analysis of the supply chain and the consumption models, the business may still find itself running out of critical inventory.
The ERP Must Be Flexible Enough to Work with Existing Inventory
The production planning function that supports resilience will have the capability to switch product mixes to adapt to a disruption. Depending on supply availability, what is the planning function's ability to maintain full production capacity in the plant? An ERP application's Master Production Scheduling system may need to suggest a plan that is based on inventory on hand, rather than what is required by anticipated customer orders. But this also needs to factor in the trade-offs required to keep the cash flow intact.
For example, fixed orders against an order vs promised stockholding need to be reviewed and all salable resources allocated to the definite orders. Can any orders or deliveries be deferred, and the resources used for another customer? While this may not be ideal, consideration may also be required to identify what is needed to keep the facility running, especially those facilities that cannot be turned off and then restarted quickly like a furnace. The alternatives of plant closures, layoffs, and incomplete products are not pleasant.
Businesses Are Forced to Prioritize Certain Customers
In a volatile and unpredictable environment, fulfillment strategies should be more granular and segmented to meet disparate requirements in different categories and geographic markets.
Firm orders must take priority. In a similar vein, priority customers must take preference over less critical customers.
Fulfillment during a major period of disruption will need to be carefully detailed and reviewed daily, or whenever updated information about supply is made available. It will be based upon trade-offs and only the business leadership can make those trade-offs. There will be customers that will suffer but it will be a best guess process.
They Must Examine the Entire Supply Chain More Often
A resilient supply chain requires new processes and teams to monitor performance at all the steps in the value chain and assess new threats on a continuous basis, rather than at annual or quarterly executive meetings. This will mean going beyond just close suppliers to look at the supply chain in its entirety, as severe impacts may not come from sources that the company deals with directly.
Supply Chain Investment Focused on Flexibility and Resilience
A recent survey shows how supply chain investments are changing—from a focused cost management model to increased flexibility and resilience, even if it costs a bit more. Strategic placement of inventory along the supply chain is critical to being able to flex and absorb disruptions.
Changes in Supply Chain Investment Goals
| | | |
| --- | --- | --- |
| INVESTMENT GOAL | LAST 3 YEARS | NEXT 3 YEARS |
| Flexibility | 35% | 60% |
| Increase resilience | 14% | 41% |
| Reduce costs | 63% | 36% |
| Business continuity | 17% | 35% |
| Improve customer service | 33% | 22% |
| Speed | 29% | 13% |
Source: Bain & Co, Digital Supply Chain Institute, 2020
Manufacturers are clearly concerned about disruptions and are looking to improve the resiliency of their supply chains to handle both global and local disruptions. A supply chain resiliency strategy aims to maintain performance measures during potential disruptions including fulfillment of orders, delivery reliability, and customer satisfaction. It will require companies to review "old normal" practices, re-assess how technology can be used to innovate supply chain management, and work in collaborative teams to enable new levels of efficiency and resiliency in producing manufactured goods. But it will also require solid logical thinking by the business leadership to ensure the main risks are foreseen as best as possible and the mitigation measures are maintained.
Corporate Memory Can Lead to Problems Later On
Companies need to be clear about why they are making specific decisions to mitigate risks and keeping appropriate records. "Corporate Memory" or rather, lack of memory, turns into a problem when mitigation policies are too successful for a business. The company avoids all the pitfalls that can affect its supply chain and things run smoothly.
Unless detailed records are kept about why the measures were originally undertaken, there is no official "Corporate Memory" about them. A new manager comes on board and challenges these policies, citing the need for more efficiency or saving money. The policies put in place for successful supply chain management will be updated and strategic stockholding will stop. Another disruption will inevitably occur, and the company will be left scrambling to change its policies to respond.
Has your business been experiencing issues with supply chain management? Meet the challenges caused by the pandemic, natural disasters, and other risks by choosing SYSPRO and Positive Vision. If you would like to speak with one of our business management software experts please call (800) 559-1323 or request a call now.