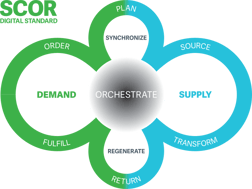 In the post-COVID world, your order fulfillment process is a critical part of your business. The reason is very simple: getting orders into customers' hands, container yards, or warehouses quickly and efficiently often results in customer loyalty. By improving their order fulfillment process, manufacturers, distributors, and retailers can increase the number of repeat customers their business attracts.
Order Fulfillment Measurement
Order fulfillment refers to the process of receiving, processing, and delivering an order to a customer. This process involves multiple stages, including receiving the order, getting parts and materials, manufacturing or assembling the items, picking and packing in the warehouse, shipping, and tracking the shipment to ensure successful delivery.
The Association for Supply Chain Management's Supply Chain Operations Reference (SCOR) model provides seven primary processes that will ensure order fulfillment is carried out properly and efficiently:
Orchestrate
Plan
Order
Source
Transform
Fulfill
Return
To measure and monitor the performance of these processes, the SCOR model also has metrics which can be used for supply chain performance—Reliability, Responsiveness, Agility, Cost, Profit, and Asset Management, and has recently added metrics for Environmental and Social attributes.
The goal of order fulfillment is to ensure that customers receive the products they ordered in a timely and accurate manner whilst minimizing costs and maximizing efficiency and throughput. By using the SCOR model, manufacturers have a tested and comparable framework for assessing their order fulfillment processes and performance.
How an ERP Can Improve Your Order Fulfillment Process
An ERP system has a set of tools that can manage the entire order fulfillment process by integrating the various processes and departments involved.
Processing Orders. An ERP system can receive and process customer orders, automating order entry, invoicing, and payment processing. By streamlining the order processing, an ERP system can reduce errors and minimize delays.
Manage Sourcing/Automate Put-Away. Most companies use suppliers to provide parts or materials or a product. An ERP system can help manage the process of sourcing items from suppliers, and on delivery at the warehouse, automate the counting and inspecting to ensure the proper amount was received and the quality is acceptable. It can also handle the putting away of the items into the warehouse so they can be quickly retrieved when needed.
Demand Forecasting in Supply Chain. Optimal fulfillment can be more easily achieved if the demand is planned for. Using historical data and trend information, an ERP system can help to predict and plan for demand levels in order to keep adequate supplies in stock without creating problems of under- or over-stocking.
Accurate Inventory Data/Inventory Management. An ERP system can help manage inventory levels to ensure items are available to fulfill orders. With accurate inventory data, businesses can avoid stock-outs, and reduce the costs of overstocking.
Integration with Assembly or Production. Once parts or materials have arrived from suppliers, the next step is to use a manufacturing or assembly process to make the product. An ERP system has various production planning and monitoring tools that can optimize the process of putting the product together. This will also include integrating with inventory management and order processing to ensure the product is ready for on-time delivery.
Real-time Visibility into Order Tracking. Using an ERP system, a business can have real-time visibility into the status of orders, including shipment tracking and delivery confirmation. This also helps to identify bottlenecks in the fulfillment process and ensure that orders are delivered on time.
Streamlined Picking and Packing. When a product is ready for delivery, an ERP system can streamline the process of picking the correct items from the warehouse using a variety of picking strategies. The ERP system can also help to optimize the packing of items to lower shipping speed costs and make transport more efficient.
Real-time Tracking. Getting a product out of the warehouse and delivered to a customer can be greatly assisted by an ERP system which can provide real-time tracking information, minimizing shipping costs and improving delivery times.
Returns Processing. Orders can get mixed up, or there may be a problem with a product; therefore, handling returns is also critical. When a customer returns a product for exchange or a refund, the process must be executed quickly and carefully. Returns processing involves quality control checks and sorting returned products accordingly. Returned products are then returned to a vendor for a distributor refund or credit.
Order Fulfillment a Critical Process for Your Business
Order fulfillment is crucial to the success of your business. It ensures that customers receive their orders promptly and as expected. Filling orders efficiently helps to reduce shipping and inventory management costs. This is a proven strategy for building customer satisfaction and loyalty. It also leads to repeat business.
Learn more about managing your order fulfillment process by watching this video, Supply Chain Management for Manufacturing.
Are you curious about how your team can build stronger relationships with your customers—and increase repeat business in the process? We invite you to click this link for access to a webinar that will explain how to increase repeat business with improved customer service.
Positive Vision is an experienced ERP vendor with experience helping organizations improve their supply chain processes. We would be happy to assist you in choosing the right ERP for your business and ensuring that its launch is smooth and effective. Contact us to speak to one of our product experts about a customized solution today.