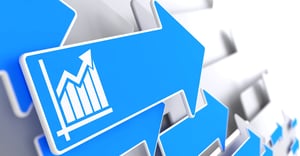 The earliest attempts at ERP systems involved calculating machines in the 1940s, growing into solutions that included inventory management and control in the 1960s. Translating these practices into software solutions started in the 70s with Materials Requirements Planning (MRP) software, and the official term ERP made its debut in the 1990s.
It's safe to say that business software solutions like ERP have come a long way since then. Along with the technical progress, these solutions have also become more affordable and accessible for small and mid-sized businesses.
ERP software solutions enable companies to manage their accounting, financial, and operational data efficiently. Systems generate reports quickly, share data across departments, and provide ready access to critical information.
Digital transformation took a very prominent front seat throughout 2020 as businesses pivoted to accommodate a practically overnight shift to remote work. In such a short time, many organizations found they could not rely on inflexible solutions that would cause any detriment or slowdown to their digital transformation. It had to be quick, and it had to work. This applied to ERP solutions as well.
With the ERP market already constantly growing through increased adoption, innovation is accompanying this growth, and being on the leading edge of ERP trends can only help your business—and your customers. Take a look at these ERP trends for 2021 and consider whether it's time to add some of these new capabilities to your business software stack.
The Top Four ERP Trends for 2021
As business software systems streamline and improve, ERP continues to incorporate the best trends from the IT world into its design and functionality. Voice recognition, natural language processing, machine learning, and many other features that debuted in search engines, home management products, and other areas are becoming features in ERP systems.
But there's more in store for 2021 and beyond.
Trend #1: Cloud Adoption
What has previously been a slow migration to the cloud for ERP in the past is going mainstream, with significant progress predicted for 2021. On-premises solutions that were previously the standard are not only cost prohibitive for smaller businesses, they were also inaccessible to most who moved to a remote work setup in 2020.
Now, cloud-based software as a service (SaaS) ERP solutions dominate the market as organizations have hit the limits of inflexible, costly, and non-innovative on-premises solutions. Cloud adoption is a vital key to improving the ERP system for 2021 and beyond.
Trend #2: Artificial Intelligence
Today, there are many human tasks that can be performed entirely by a machine. Yet the fears of computers putting people out of jobs has still not become a reality. This is due largely to it being the goal of an AI maker for the technology to augment human activity, not replace it.
Artificial intelligence (AI) has increased in both power and theoretical understanding over the years in order to mimic human cognitive functions, such as problem solving and learning. When connected to an ERP system, AI is designed to help users make decisions and work faster while reducing mistakes—or eliminating mistakes altogether. Accounts payable is a key ERP function which can be automated through an AI system for increased productivity.
Trend #3: Mobile ERP
The ability to support a mobile workforce made the transition to fully remote work in early 2020 a little easier to navigate. Many employees were working from laptops and phones from homes or while sitting next to children who needed help with e-learning, which pushed the development of multiple apps that could help a user connect systems on a mobile device so they could work from anywhere.
Trending ERP mobile apps can send push notifications, create an event, review and approve time, sales orders, and expenses, and more—all at any time and from any location. This has facilitated more work able to be accomplished in a day, especially with the availability of real-time information at fingertips.
Trend #4: Internet of Things (IoT) Integration
Remote work has made IoT quite popular in many businesses, seamlessly connecting every physical device or sensor in a company's network. Integrating IoT with ERP allows organizations to collect, evaluate, and assess massive amounts of data via sensors, and gather real-time data about the performance and production process.
Running this IoT integration into the existing ERP system can significantly cut down the amount of manual data entry required and lets you quickly automate complex business processes through intelligent data processing methods. With a predicted 8.4 billion IoT devices expected to be integrated into business operations by the end of 2021, the majority of companies will be looking for an ERP system that allows them to interface the network and maximize IoT capabilities.
2021 Brings More Effort Into ERP Implementation
Modern ERPs continue to progress and change how companies do business. More changes will emerge over the next year, though our top predictions include buyers moving to the cloud for personalized, remote access solutions with continuous updates; new IoT technologies that must be connected; and more. An ERP implementation may take more effort in 2021, but it's safe to say the benefits will far outweigh the effort.
The Top Seven ERP Trends for 2020
Last year, we offered seven ERP trends for 2020. And then 2020 blew up! Priorities changed. Even so, these ERP trends are worth considering as we move through 2021.
Trend #1: Agile ERP
What is Agile? Agile refers to project management or a software development term that uses constant feedback to improve the next iteration of a project. Unlike traditional waterfall methods, which wait until the prior stage is finished before moving on to the next, the components of an Agile project can co-occur. Feedback loops into each phase of the project to ensure that no one has to wait until the end to find out they've created a bug-ridden product.
Throughout the tech industry, Agile has become the new gold standard, and it's making inroads into other environments such as marketing agencies and product development companies. It's also making great strides into ERP. Agile ERP is a growing trend gaining steam as ERP heads into the next decade.
Trend #2: Customer-Centric ERP
Along with Agile, customer-centric ERP is also growing in popularity. Rather than supplying the packages the ERP designer deems essential, customer-centric ERP focuses instead on the end customer's needs. Currently, most ERP software makers create packages or editions that incorporate key features such as accounting, finance, human resources, CRM, and other valuable business services. A customer-centric approach to ERP takes into account what the end customer might need and bundles together packages so that a flexible model becomes the norm.
Traditionally, this wasn't possible due to the way software was made, sold, and distributed. Cloud software changed this model. With cloud-based systems, users have more flexibility in delivery and use than older systems. Companies are likely to experiment with a flexible, customer-centric model, especially as pressures build to provide more software to smaller businesses who often need specific features from but cannot afford to buy all the packages offered.
Trend #3: Improved Functionality
Dovetailing the concept of customer-centric ERP is the push for improved functionality. It's no longer acceptable to create and sell ERP software that's difficult to use or doesn't provide all the functions that end-users need. In the past, companies may have accepted less than stellar functionality for a lower price point, but now, having more software options enter the market has forced ERP software solutions to offer better functionality at competitive prices.
Trend #4: ERP Transforming Infrastructures
ERP systems have the potential to change the infrastructure of companies. First, ERP systems can streamline and automate work that was done by multiple people. For example, a data entry clerk may no longer need to type copious amounts of data into spreadsheets to prepare reports, since reports can run automatically from the ERP system. Data silos, which kept rigid if invisible barriers between departments, are wiped away by the easy access to data from an ERP system. Workers no longer have to rely solely on the data within their department, so they can collaborate with teams across the company, thus changing the infrastructure by blurring the lines between departments.
It's a gradual transformation that starts when an ERP solution provides people with what we call "ah-ha moments." These are collaborative, creative moments that occur with the easy availability of data. Suddenly, marketing and operations see opportunities for collaboration; production looks at financial data and grasps the importance of tighter supply chain management. ERP transforms the infrastructure gradually, naturally, and logically through easier data access.
Trend #5: Augmented Human-AI Interactions
Many reading this already have AI-based devices or "smart devices" in their homes, such as Alexa, Siri, and other voice-activated devices. These devices are getting better at understanding the nuances of human speech thanks to projects like Google's BERT, which provides breakthrough open-source natural language processing technology to other companies to better the entire industry.
ERP makers are looking at other industries and adding such features to their products, too. There will come a day when the accounting department can simply ask their ERP system, "Bring up the Jones invoice," and the invoice appears on the screen.
Machine learning, in which systems grow smarter after multiple queries, is already part of most software, and these augmented human-AI interactions will only get better as time goes by. How this eventually shapes the ERP industry is uncertain, but what is certain is that ERP will get better, faster, and more intuitive to its users.
Trend #6: Improved Business Intelligence
Data isn't much use if you can't interpret and use it. Business intelligence bridges the gap between simple reports and exporting and manipulating data in spreadsheets by providing an easy way to run data visualizations to interpret information. The marriage of ERP and BI offers the best option for companies that rely heavily on data for planning and forecasting, and new and improved analytics are on the horizon. While many companies provide BI packages in addition to their ERP, at some point soon, they may be merged, with enhanced packages provided independently. More companies demand business intelligence as part of their operations to use data to drive decision making.
Along with the demand for BI is the need to train people to appropriately use and interpret the data and analytics in business intelligence reports. Charts, graphs, and other visualizations can be confusing if you aren't used to explaining them. Selecting the best one to represent the data under discussion can be difficult without training in data and analytics. Enhanced training may include both how to use the software and how to interpret the results.
Trend #7: Improved User Interfaces
Many ERP systems offer intuitive user interfaces, but the more the interface can be customized to the user and their role, the better. Personalized dashboards and user interfaces save a lot of time and hassle by making sure frequently used items are right on the dashboard. Accounting may not use the CRM often, and marketing may never need to check accounts receivable, so giving them identical dashboards doesn't make sense.
User interfaces also deal with navigation, presentation on the screen, and how people move through the system itself. Smart ERP makers are looking at how people use their software in offices and on the factory floor to see what they access and how they want to navigate through the system. From there, better user interfaces are being built which provide enhanced navigation, more accessible access, and additional features that users demand.
Trends and Training Are Changing
A final area of ERP implementation that's also changing is training. Most training is conducted in groups, with extensive training completed during implementation and follow up afterward as needed.
In the future, we may see more pre-recorded, on-demand training replacing large-scale training. Most users just want to know how to do their job with the new software and how to find what they need; few need the in-depth, in-person implementation training. Specialized training can be recorded and shared to help each department learn the aspects of the new ERP system they need and use the most, rather than one immersive training for all.
Get Trending With PositiveVision
Whether you're a long-time or a first-time ERP user, keep a finger on the pulse of these trends and more with PositiveVision. Our experts have a deep understanding of support, training, and development for world-class ERP business software solutions such as SYSPRO and Sage 300cloud. Let us help you select the best software for your company's needs today and for the trends of tomorrow. Talk to an expert now.