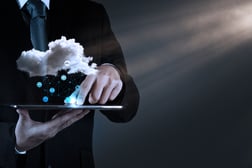 Your company's finance department can have a substantial impact on your business—depending on whether it runs efficiently. Managers need to make crucial data-based financial decisions to help the business succeed. Investing in a cloud ERP (enterprise resource planning) system is an excellent way to give your finance team the information they need quickly and easily.
An Integrated Cloud ERP System
A company's cash management and capital planning are essential for its success. If employees must perform these processes manually, it takes a long time and a lot of effort.
An integrated cloud ERP system, like SYSPRO Cloud ERP, automatically enables you to merge similar processes from various departments. With such a system, you can combine the financial information of the accounting and sales departments, for example.
With this integration, you can manage multiple areas of your business from one place to save time on different tasks. As a result, you will be able to create a reasonable budget, allocate resources, and manage payments without moving between departments.
Cloud ERP Advantages
Consider these advantages of using cloud ERP software for your company's finances.
1. Transparent Financial Data
Unlike traditional financing processes, cloud ERP software allows you to access financial records instantly. By using this system, you will be able to find the correct information quickly rather than having to look through hundreds of physical files. By doing so, you can monitor your company's financial health in real time.
A cloud ERP system allows you to monitor your billing schedules, payments, and revenues. As a result, you can track every transaction with customers. All information will be available so you can make a well-informed decision.
Additionally, you can consult the financial statements whenever necessary to clarify misunderstandings after financial transactions.
2. Automated Financial Processes
With a cloud ERP system, you can focus on your most crucial operations and automate or eliminate many manual processes. Automated processes make it easier to manage your accounts receivables and payables. The improved cash management process will result in better cash flow.
Cloud ERP systems enable you to integrate financial information from various departments automatically. You can manage your finance department more efficiently without manually handling each step.
3. Reduce Human Error
Manually gathering data is challenging due to human error. Your employees may make mistakes when filling out financial information, which can have dire consequences for your accounting. Financial errors can distort the analysis and reporting of financial data.
The consequences, such as tax complications, of such mistakes can be severe if they are not corrected early enough. A cloud ERP system will prevent those errors since it runs automatically, so you will not have to worry about collecting incorrect information. This way, you can rest assured that your financial data is error-free.
4. Make Better Decisions Using Real-time Data
A cloud ERP financial management system will also give you a clear view of your financial situation at any given time. Keeping track of your accounts is convenient, and you can make appropriate decisions based on your financial plan. The information will allow you to conduct audits, monitor costs, manage accounting, and estimate revenues.
With a clear view of your business's financial health, you can make specific adjustments to boost productivity. Since you will have access to the correct information, you will always be able to handle challenges and find a timely solution.
By using a modern management system, financial decisions will be easier to make.
5. Fast, Accurate Financial Reports
Preparing financial reports from transactions is time-consuming and energy intensive. This information may be needed by banks, shareholders, and tax regulatory agencies, among others. For your staff, assembling financial reports can be laborious, especially during busy periods like the end of the month.
A cloud ERP system eliminates all those hassles. You can either print or email the financial reports generated automatically by the software. Moreover, the system is designed to deliver accurate information consistently, so there are no errors in the financial statements.
6. Financial Data is Secure
Financial transaction data is sensitive and must be protected at all times; a solid security system is essential. You can protect your information within your cloud ERP system instead of installing security software.
Unauthorized personnel will not have access to your records without your permission or knowledge. You will not have to worry about falsified financial data or unlawful modifications to your accounts. Instead, you will have full access to the data and can make whatever changes you wish.
Choose a SYSPRO ERP Solution from PositiveVision for Financial Management
Traditional financial management tools can make it challenging to manage your company finances. When you choose a SYSPRO ERP solution from PositiveVision, you get the advantage of being able to streamline all your financial operations. SYSPRO's cloud ERP allows businesses of all sizes to operate in an increasingly complex environment.
PositiveVision has the skills and expertise to make your cloud ERP work for you. Whether you are looking for a straightforward implementation of financial management software or are looking for a package that includes manufacturing, distribution, and beyond, we will listen to your needs and implement a solution for your exact requirements. Contact us to speak to one of our product experts about a customized software solution for your business.