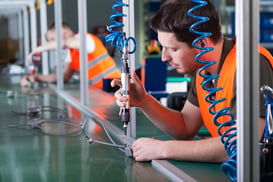 Uncertainty is nothing new to the manufacturing industry. There are always outside forces exerting influence on the company. It doesn't matter if the company is a start-up or is a large manufacturer which has been doing business for years. The only thing business owners and managers can do is respond to situations as they arise and increase their operational flexibility. Cloud manufacturing is a great strategy for staying nimble in an uncertain business environment.
Why Introduce Cloud Manufacturing?
Manufacturers can use the cloud for everything from data storage to management and processing. Clouds are accessible via the internet, making remote access easy for both the manufacturer itself and even third parties that provide additional services.
In addition, hosted cloud-based systems are typically faster to roll out than traditional on-premises systems and can automatically receive updates to keep up with the latest developments. Convenience alone can be a large selling point for many businesses. Moving to the cloud can also help manufacturers update their IT infrastructure to make their business more agile.
Benefits of a Cloud Computing Platform
Despite how it may seem, investing in a cloud platform is not solely a technology decision. It's also a business strategy that gives you the agility, speed, and insight you need. Cloud computing can help support and drive growth.
Synchronize Quality. Quality has multiple aspects, from inbound inspection to reducing scrap and screening out defective parts. Tracking, analyzing, and reporting quality status by center and product with a cloud-based application puts quality at a higher, company-wide value. Quality strategies can be synchronized across departments and locations with real-time data.
Shorten Cycles. Cloud-based technology allows greater insight into manufacturing cycle time and where improvements can be made to shorten it, driving up a manufacturer's ability to remain competitive.
Gain Insights into Equipment Effectiveness Levels. Each machine's overall equipment effectiveness level can impact workflow and productivity. With insight into which areas are performing well and which need to improve, manufacturers can increase efficiency and avoid unnecessary costs.
Achieve Supply Chain Visibility. Supply chain visibility is paramount to maintaining quality levels. Cloud-based applications can scale across networks, catching product quality problems early, and save manufacturers unpredictable expenses.
Discover Data Patterns to Predict Inventory Demand. Having insight into inventory levels across supply chains drives efficiency in inventory planning and management. With cloud-based inventory systems and ERPs collecting data, your teams can find data patterns that help predict shifts in demand and make the necessary moves to accommodate.
Add Mobile Access. No matter whether workers are on the assembly floor, in the field, or working remotely from home, they can access vital information from anywhere with a laptop or mobile device.
In an uncertain economy, moving to the cloud can also save money. Setting up and maintaining IT infrastructures requires resources such as servers and software licenses, which are considerably more cost effective when hosted in the cloud.
Move Forward with Cloud Manufacturing and PositiveVision
Cloud manufacturing gives you several benefits that allow your company to respond to customer demand by scaling quickly. It gives you the freedom to do business anywhere—even from home. Cloud manufacturing also assists with shortening manufacturing cycle times and improving your supply chain. Cloud software is a valuable business tool to help you be ready for whatever your business may face next.
SYSPRO Cloud ERP is the scalable and cost-effective solution you need for your manufacturing business. This robust software option gives you the capability to manage your manufacturing operation. With SYSPRO Cloud ERP, you get the flexibility you want for your business in a system offering the security and services you need. To discover more about this solution, speak to a software consultant now.