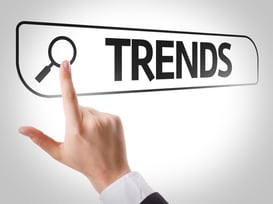 If 2021 was a year of transition, we can expect this trend to continue into 2022. The global pandemic still stubbornly hangs on and there isn't a clear end in sight. Organizations and industries must continue to adapt to fast-paced change and uncertainty in the market. To accomplish this goal, their digital transformation strategy must be able to keep pace.
Digitalization Continues to Pave Way for Success
The pandemic has been the catalyst for change, with a drive to fundamentally rethink the manufacturing and distribution space. During the pandemic crisis, one area that has seen tremendous growth is digitization, meaning everything from online customer service to remote working to supply-chain reinvention to the use of artificial intelligence (AI) and machine learning to improve operations.
Digital transformation continues to be a key trend in 2022, with a large drive from across all industries towards the ERP and Cloud Computing spaces. To prepare for a far more digital operating environment, organizations will need to adjust and improve their infrastructures, upskill their workforce, and reorganize their businesses.
4 ERP Trends for 2022
As a tried and tested solution, ERP remains an essential tool for organizations, while industries have also committed to tech upscaling, primarily focusing on warehouse automation, migration to cloud-based services, and other SMART Technologies. Companies have declared, unanimously, their intentions to maintain the support of these initiatives beyond the pandemic.
Industrial Recovery Already Started
Surprisingly, many organizations have begun their recovery from the effects of the pandemic with 40% of all businesses surveyed within the Manufacturing CFO 4.0 Survey 2021 expressing a healthy return to pre-pandemic trading conditions.
From the survey results, the African continent stands apart as a unique outlier from a global perspective, ranking as the most optimistic operational region in terms of recovery and the return to profitability.
The Food & Beverage (F&B) and Chemical & Fertilizer industries report that 2021 was a good year for them, likely because these are staple products on the global market. Industrial Machinery & Equipment (IM&E) and Electronics also reported a good trading year in 2021. These industries likely showed good results due to more people working from home.
Businesses Focus on Expanding Operations
Manufacturing and distribution companies have been forced to refocus their attention for 2022. They are being driven by the promise of innovation. It's also true that the COVID-19 pandemic has forced businesses to consider where they need to focus their attention to meet their immediate needs and to respond to future market conditions. Rather than cutting back, many businesses are expanding their operations.
More Investment in New Equipment, Technology
Along with growing their operations, businesses are investing more capital in new equipment and technology. More and more companies are opting to take their trading operations into the digital space. There is a clear indication that e-commerce itself has played an important part in the shift towards a new, digital era for business.
Recruiting Fewer but More Highly Skilled Team Members
The lack of skilled workers is nothing new for businesses. Companies are responding by onboarding fewer new employees while focusing on recruiting ones with the highly specialized skill sets they need. The other option for businesses in 2022 is to rapidly train their existing employees to obtain the desired skills.
As more businesses implement ERP systems, they expect to optimize several roles and responsibilities while cutting costs.
Closing the gap between increased use of technology and the need for skilled workers to use it means companies will need to make long-term investments in this area. The ERP trends listed above will continue through 2022 and beyond as businesses continue to cope with supply chain issues and other challenges.
Are you interested in learning how quality solutions can improve your bottom line? Watch this webinar entitled Quality for SYSPRO Drives Cash Flow now.