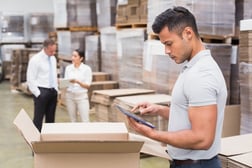 For today's manufacturing and distribution companies, inventory management automation is the answer to issues they are having with forecasting, tracking inventory, and fulfilling orders promptly. Access to more real-time data and a higher level of transparency streamlines business processes.
Inventory management automation isn't just for enterprise-level companies. Small and medium-sized companies can also benefit from automating their inventory management and any repetitive processes in their company.
Advantages of an Automated Inventory Management System
Inventory management software was developed to give businesses a comprehensive view of everything in their warehouses. This solution provides a high level of stock management. Anyone with the right authorizations can access the company inventory data from anywhere, at any time.
Why implement inventory management automation for your business? Consider these advantages:
Managing inventory is a complex proposition with multiple moving parts and time-consuming processes. Cloud-based inventory management automation software saves time by taking processes that were previously performed by humans and performing them automatically. When these processes are performed more efficiently, the company saves money.
Improves Inventory Forecasting and Control
An automated inventory management system can handle functions like reordering and forecasting. The system can ensure the warehouse doesn't have any overstocks or stock outs of any items. It will automatically adjust for seasonal demands to boost productivity.
When you can view your inventory in real-time, you have much better visibility of what is currently available and where it is located (if you have multiple warehouses). It allows your team to provide more accurate updates to customers about their order status.
Keeping inventory levels at the levels required to avoid overstocks means your company will avoid having to pay extra holding costs.
As your business grows, you'll want to ensure that your inventory management operations can keep up with the increased demand. Automating these processes means you have the systems in place that are ready to grow with your business.
Ensures Order Fulfillment
Inventory management software automatically synchronizes orders with available inventory. As soon as an order is received, inventory numbers are updated to reflect the new, lower amount held in stock. The software also ensures that items with a long lead time are available to fill orders.
Ability to Negotiate Better Prices
When the time comes to discuss business volumes and pricing, the inventory management software will provide these figures quickly. The numbers are essential when discussing why your company should get preferred rates from suppliers.
Increased Trace and Locate Function
If an item held in inventory is recalled, all units must be located quickly and returned to the manufacturer. It's crucial that none of them are included in orders. Inventory management systems ensure that products can be easily traced, and your team can locate items that may have been compromised when required.
More Effective Decision-making
The inventory management software gives management the data needed to make better decisions. Automated reporting provides the insights required for important choices being made on behalf of the company.
Inventory Management Automation and ERP
Inventory management software is an integral part of an Enterprise Resource Planning (ERP) system. ERP software combines your company's inventory, accounts, and operations. It gives your team enhanced oversight for better decision-making and effective future planning.
SYSPRO Inventory Management gives your team access to the company's inventory levels, purchase orders, and sales orders. Track inventory costs, monitor goods in transit, and the inventory itself. This option provides control over inventory and a high level of visibility over business operations. Click here to watch an informative video about SYSPRO ERP inventory management.
Sage 300 ERP software from PositiveVision is used by many distribution companies around the globe. Its inventory management features can be used to improve your operations.
PositiveVision has been working with organizations in the Greater Chicago area since 2002. Our goal is to constantly keep our clients' business goals in sight. To discover more about PositiveVision's distribution solutions, contact us to speak to one of our product experts today.