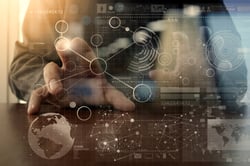 Have you ever heard the saying that necessity is the mother of invention? If that's true, then innovation is closely related to it. The global pandemic has resulted in multiple challenges (and opportunities) for manufacturers and distributors. Manufacturing innovation is the price of staying competitive now and going forward.
According to a recent SYSPRO Global Research report, 70% of manufacturers and distributors experienced supply chain disruptions, while 60% of businesses found themselves unable to engage with customers or suppliers. This, together with sudden stock shortages and a surge in the growth of e-commerce is now requiring manufacturers to innovate more effectively.
A practical way that manufacturers can do so is firstly through using data in more comprehensive ways and secondly by embracing digitization to optimize their operations for the future.
Collect Internal and External Data Impacting the Business
Data should never be used in isolation, but rather, manufacturers and distributors should mesh a complete view of all internal and external factors impacting the business.
A simple example of this would entail considering inventory and stock on hand (internal data) along with changes in weather patterns due to climate change (external data), and how both factors affect a factory's ability to deliver on its orders. As well, countries now need to consider regional influences alongside global ones.
Responding to changes requires having accurate, real-time, and relevant data about one's operations to react and make decisions. Having accurate data about what is happening on the factory floor is essential as it empowers manufacturers to leverage KPIs to better monitor machine maintenance, ensure the quality of goods being produced and ensure supply chain optimization.
Barriers to Effective Data Collection for Manufacturers
The main problem is that some manufacturers lack a nimble system to collect accurate, real-time data which will enable them to operate more efficiently. Secondly, most manufacturers lack a key role within the organization, that of a data scientist or data analyst. In today's world, data is the commodity of choice, and knowing what to do with the right data and turning it into actionable insight is imperative. Many organizations, although they collect data, fail to collect the right data. Without that, they don't have the necessary ingredient for analytics that would yield actionable insight and support in making the best strategic decisions possible for the business.
Manufacturing Innovation Through Automation
Digital transformation is often referred to as a journey because it is a long-term, ongoing goal, rather than a short-term accomplishment that an organization can tick off. It entails several shorter steps that need to be taken, beginning with automation, and then turning to digitalization and using AI and machine learning.
When we look at enabling innovation through embracing digital transformation, a key trend—and the first step on the journey—those manufacturers and distributors need to incorporate is automation. Automation does not exclude the value of workers, but rather augments their jobs and increases innovation. Automation can be used to streamline processes using robots, along with the use of computer vision and artificial intelligence. For example, artificial intelligence can be combined with spatial awareness to define safer routes for pickers. Just one pragmatic application of this would enable a worker on foot and one in a forklift being guided by AI to be able to better find and pick up items within a warehouse without bumping into each other.
Some other standout benefits of AI infused automation include:
Increased operational visibility within a warehouse, helping to optimize how goods are transported

Insight into where operational improvements could be made.

Increased safety and fewer on-the-job injuries in the warehouse and on the factory floor.
Industrial Internet of Things
Another key technology that manufacturers should be using to fuel their digital transformation is the Industrial Internet of Things (IIoT), specifically by using sensors to collect relevant data.
For example, with the use of IoT sensors, manufacturers can be warned ahead of a breakdown when a machine needs maintenance, saving themselves the costs associated with a breakdown as well as downtime. As well, IoT can be used to deliver information on how long it takes to manufacture a particular product; and this data can be used to fuel greater innovation.
Dark Warehouses of the Future
Fully enabling innovation could lead toward dark factories, or fully automated factories, and dark warehouses. The term refers to a warehouse that is fully automated, and goods can be moved, sorted, packed, and exclusively handled by robots, and the operations can continue 24/7. In a dark warehouse, only a few personnel are needed to manage the needed machines and software.
Dark warehouses not only offer cost savings, but they also offer some environmental ones as well and help reduce injuries otherwise incurred by workers. As with smart factories, dark factories will enable manufacturers to take advantage of a continuous stream of quality, relevant data from the factory floor that they can use to their benefit as discussed earlier. As well, dark factories will greatly enable manufacturers to increase their efficiencies and thus grow the business.
ERP at Center of Data Change
At the core of using data in new ways and embracing digital transformation is ERP, as it enables organizations to consolidate data, often existing in silos, and ready that data for analysis so that data can be transformed into actionable insight. ERP systems further contribute to enabling innovation when used in manufacturing, as they too are evolving.
For the past several decades, ERP systems have been monolithic applications, but that is changing. They are now becoming more platform based and are more customizable and better able to integrate information from a variety of sources. This will afford manufacturers a greater degree of agility in how they handle data.
Need Manufacturing Innovation? PositiveVision Helps You Get the Right Technology
Manufacturers and distributors need to understand that the need for accurate data will only grow with time. Global estimates say we are likely to reach a whopping 18 zettabytes of data by 2025. Digital transformation is a continuous process requiring constant innovation. Manufacturing innovation is part of this picture in a world where the rate of change is also increasing over time.
How do you know which manufacturing software to choose in a constantly changing business environment? You enlist the help of a trusted company like PositiveVision. We help our clients bridge the gap between where their business is right now and where they need to be using ERP software. Each client we work with is unique and we always keep their business goals at the forefront.
To learn more about these manufacturing software solutions and find out which options would be the best fit for your business, contact us today to speak to a product expert.