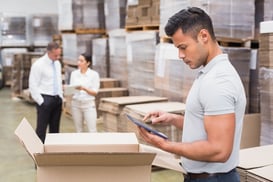 As the business world slowly starts to pull out of the Covid-19 pandemic, many companies are still feeling the effects of the shutdown. As Chicago IT consultants, PositiveVision is frequently asked by clients how to overcome supply chain challenges. This blog post will offer some suggestions on how to do that.
How to Overcome Supply Chain Challenges
As companies deal with a complex business environment, you need to be proactive about addressing your supply chain challenges. The following tips will assist you in reaching this goal:
Keep close track of your stock.
This is the first thing you need to do. No matter what is happening with your supply chain, you need to know exactly what you currently have in stock and which items to order. You don't want to run out of items that are in demand and find that you have trouble restocking them.
Find ways to increase your inventory of popular items whenever possible.
There are some items that you know sell very well and you know you don't have trouble moving off your shelves. Whenever possible, you may want to consider bringing in extra stock of these popular products from your suppliers.
You will always need to consider how much time it will take to move the additional items out, the amount of space they will require in your facility, and the financial investment involved. If the supply chain could become unpredictable, it may be prudent to stock up when you can on these types of items.
Develop relationships with alternate suppliers.
Your regular suppliers may not always be able to meet your needs due to their own supply chain issues. If this happens, it pays to have a backup plan in place. Develop alternate contacts you can call or e-mail in case you need to place an order if a specific product becomes unavailable.
Ideally, your alternate suppliers are situated in different locations. Some of them should be close to your facility to save on shipping costs while ones located further away can step in to supply stock if local suppliers are unable to do so.
Be direct with your customers.
Supply chain issues have been in the news often recently. Most customers should be aware that companies have been dealing with stock-outs or some items taking longer to get into their customers' hands. It's a good idea to post a general message on your website letting customers know there may be delays in processing and shipping orders due to unforeseen circumstances.
If a specific item is out of stock, let customers know before they place their order. They won't be surprised to find out they will have to wait to receive it.
Use automation tools to manage your supply chain.
You may not be able to predict when a supply chain disruption will occur. That doesn't mean there is nothing you can do when it happens.
Modern technology gives you the advantage of being able to use enterprise resource planning (ERP) programs to manage your business processes. Along with managing day-to-day activities such as accounting, compliance, and procurement, an ERP software solution can also assist with your supply chain.
SYSPRO ERP from PositiveVision to Manage your Supply Chain
If you're wondering how to overcome supply chain challenges, the answer is SYSPRO ERP. You can design a solution based on your company's needs that includes only the modules you need and nothing you don't want. Choose from more than 50 different modules for a solution that suits your business. As your business grows and changes, you can add more modules or change your solution to make a better fit.
Find out more about SYSPRO ERP and supply chains by downloading this free e-book now. You can also contact us to speak to a product expert and book a demo.