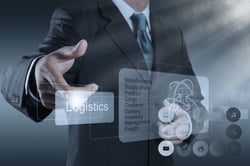 It's no secret that the modern marketplace presents significant challenges for businesses. Supply chains are disrupted, inflation is rising, and customer expectations around service levels remain high. To survive under these conditions, companies must have a solid foundation in tech. That foundation must provide the capabilities and insights needed to assist the company in effectively managing these obstacles.
A modern ERP provides this foundation. It serves as a central source of truth for financials, operations, and the supply chain—essentially every aspect of a manufacturing or distribution business. But not just any ERP platform will do. Just as markets change rapidly, so does technology. Upgrading to the latest ERP version is necessary to take advantage of the new capabilities that enable digital transformation.
Higher Digitalization Capabilities for Manufacturers and Distributors
With digitalization, the entire organization gains agility, increases efficiency, and cuts costs. With an ERP upgrade, you gain key capabilities needed to digitize critical manufacturing and distribution processes.
For example, incorporating IoT into just about every machine, part, and finished good inventory item enables several powerful capabilities within an ERP solution. One such use case is complete product traceability for recall and mock recall management. With automated recall capability, management can track finished goods items that were manufactured, sold, and delivered to customers, as well as how and when these items were receipted into stock via jobs, inventory movements, backflushing, or purchase orders.
In-Depth Visibility into Company Finances
ERP software also enables deep visibility into finances, so management can identify efficiencies and streamline payment processes that significantly improve the bottom line. By upgrading to the current version, manufacturers can often take advantage of newly emerging capabilities such as low code/no code tools. These tools enable business users to create data queries without involving a programmer. As a result, the finance team can become much more agile.
Additionally, improved performance from an upgraded ERP can significantly speed up processing times. This can be very valuable to organizations that operate in high-volume transaction environments where a few pennies saved per transaction will reap large cost savings over time.
Improved Performance with Integrated Software
Finally, there are also technical considerations. ERP upgrades often include improved security, optimized performance, and new capabilities. Plus, as the cloud becomes increasingly important to manufacturers and distributors, new releases of the ERP will increase their ability to leverage it.
SYSPRO ERP from PositiveVision gives you a customized solution based on your company's needs. Your ERP upgrades include only the specific modules you need. With more than 50 different modules to choose from, you can build the specific ERP system you want. You can add more modules or swap them out as your business grows and changes. Download this interesting video about ERP and Digital Business here. Discover more about SYSPRO ERP solutions by contacting us to speak to a product expert.