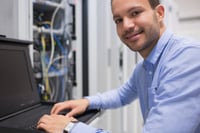 With the lockdowns and recessions that resulted in 2020 from the COVID-19 pandemic, the world of work has changed dramatically. For some, the labor market outlook is considerably more uncertain than it was this time last year as remote work and other accelerated technical adoptions—such as robust business management systems—created a new frontier for the world of work.
Businesses have thrived on the swift rise of cloud computing, artificial intelligence, ecommerce, and additional collaborative technologies. However, this swift acceleration in the technology revolution has also created a skills deficit in a workforce that is unprepared for this faster-approaching future.
According to a recent World Economic Forum report, the ability for global companies to harness the growth potential of new technology adoption is hindered by skills shortages. This is especially true for the manufacturing sector, where 67.7 percent of respondents identified the skills gap as one of the biggest barriers to the adoption of new technologies. As many as 14 percent of workers could be at risk of displacement in the manufacturing industry alone.
With the future of work already having arrived for the majority of white-collar workers who have made a quick shift to working entirely remotely and online, it's a more complicated switch for manufacturing laborers who may have worked largely hands-on until earlier this year.
But, reskilling is possible. Now is the time for CHROs and business leaders to help employees build needed skills that will enable the workforce for whatever the future of work brings next.
1. Help Your Team Build the Right Industry Skills
As manufacturers and distributors consider the technology and business management systems needed to enable the future of work, they need to also understand the types of skills necessary for success.
The WEF report identifies a list of top emerging skills in the sector, with the top five being:
Technology use, monitoring, and control
Critical thinking and analysis
Active learning and learning strategies
Leadership and social influence
Analytical thinking and innovation
While the ability to optimize the use of technology is a top priority, soft skills, social skills, and analytical skills are now playing a much greater role in the industry. The challenge businesses face is that softer skills are often undervalued by some organizations, who tend to focus on training initiatives in more tangible, harder skills.
2. Consider the Needs of a Remote Workforce
When the pandemic struck, entire workforces had to suddenly collaborate remotely, interact with new technologies and business management systems, and face the prospect of being replaced by automation. WEF calls this a "double disruption" to the already burgeoning skills gap, where businesses were suddenly faced with the need to implement collaborative technologies, and employees needed the right skills to use them effectively.
Findings within another recent study revealed that recent lockdowns resulted in the inability of 47 percent of manufacturing and distribution businesses to function effectively. This was due to a combination of ineffective business management systems and manual processes, resulting in an inability for staff members to operate efficiently.
In a shift toward remote work and increased collaboration, nearly three quarters of businesses stated they would need to invest in technology to facilitate remote working capabilities in the future. What is particularly interesting is that almost half (45%) of businesses have realized that they could lose crucial talent in the future if they do not embrace remote working moving forward. Training initiatives to enable the remote workforce are therefore imperative.
3. Instead of Replacing People, Augment Jobs
The WEF report also refers to the augmentation of key job tasks. By 2024, humans will facilitate only 38.3 percent of information and data processing, 44.1 percent of manual work activities, and 46 percent of looking for and receiving job-related information. In general, by 2025, the time spent on current tasks at work by humans and machines will be equal.
Jobs focused on manual processing will, therefore, be augmented by emerging technologies such as AI. While most manual processes will be replaced, manufacturers can start focusing on upskilling employees in other critical areas such as business management software applications, data science, and robotics.
Upskill for the Journey With PositiveVision
While the world of work is undoubtedly changing, the key to success is to ensure employees are enabled with the right skills, knowledge, and expertise along the digital transformation journey.
Whether your manufacturing business is small or mid-sized, PositiveVision's business management software solutions and consulting partnerships can help your team get the technology and training they need for your business' success. Whether you're looking to leverage the success of an ERP, warehouse management system, or business intelligence application, PositiveVision can help you create the best business management software stack for your needs. Start planning for upskilling today with the help of a PositiveVision technology expert.