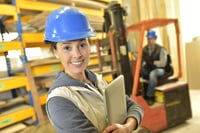 This year, more than ever, supply chain management has experienced seismic shifts and changes. From economic pressures to trade disputes to the global health crisis, change in 2020 has been unpredictable at best. In addition, some problems have compounded as various companies shut their doors for COVID, and others shut their doors for good.
Recent research from Alloy revealed that most manufacturers and distributors are feeling the effects of the rapid changes brought about by the pandemic.
Among companies that faced supply chain disruption over the past year, 32 percent said it took a month or longer to recover.
The pandemic impacted 95 percent of companies—but only 56 percent had a plan to deal with disruptions from China.
Only 27 percent had full visibility into their supply chain.
Your company may be experiencing some of the same changes and struggles, but you're not alone, and neither are you doomed. Supply chain management is usually challenging—this year more than usual—but there are ways to make sure your products still get to your customers to keep both your businesses going.
Four Ways to Keep Supply Chain Management Flexible
There are several ways distributors can meet the challenges of change. Here are some of our favorite supply chain management tips to remaining flexible and able to meet customer demands.
Alternate Suppliers
Smart distributors have a list of alternate suppliers at the ready in case of supply chain disruption. It doesn't matter where or why a disturbance originates—it could be a virus spreading from one continent or political turmoil in another—but disruption is a fact of life. Pre-vetting a list of suppliers before you need them ensures you'll be able to find replacement goods should you encounter delivery problems.
Improve Supply Chain Visibility
Improving supply chain visibility is essential to weathering disruptions. Transparency along the entire supply chain can help you identify critical delays and shortfalls among current suppliers, then find new ones in time to fill customer orders.
Estimate Actual and Potential Availability
Good supply chain management software such as an ERP can help you gain insight into actual product availability in your warehouse. The ability to scan items into receiving and immediately update your ERP system through cloud software provides real-time visibility into stock counts. With an integrated and visible supply chain that allows your vendors to connect to your ERP, you may be able to assess potential availability. By viewing both actual and potential stock, you have the option to close more or larger sales with confidence.
Optimize Personnel Safety
Your distribution warehouse is only as good as the people running it. When critical workers turn up injured or sick, you may find yourself scrambling to fill orders. Focus on personnel safety issues by ensuring you have adequate personal protective gear, hand sanitizer, washing stations, and other necessary supplies. Consider running updated safety training. Keeping everyone healthy and safe is vital to the smooth running of your operations.
The Hidden Link Between CRM and Supply Chain Management
In addition to taking these steps to ensure a flexible approach to supply chain management, there's another option available. Your CRM system offers insight into operational forecasts you may have overlooked. CRM systems track sales at the customer level, but they can provide data that enables you to improve forecasting. Using the full suite of tools available within your CRM system, you may be able to:
Predict customer ordering patterns
Identify periods of high and low demand
Forecast according to these patterns
Data within CRM systems can also be organized according to product sales instead of by customer sales, giving the option to view and potentially predict spikes in specific product sales, identify laggards, and create incentives to boost lackluster sales.
No Such Thing as Business as Usual
Distributors continue to face a world in which supply chain disruption is the norm: There's no such thing as business as usual in this environment. To succeed, companies must remain flexible and adapt to new opportunities, challenges, and threats while continuing to sell products in a world where ports, airports, and transportation centers can close at a moment's notice. Taking steps in your supply chain management to remain flexible, minimize risk, and use CRM and other data sources to pinpoint opportunities can go a long way toward to keeping your business healthy and viable.
Supply Chain Management With PositiveVision
Take your supply chain management to the next level with PositiveVision. For nearly 20 years, our business software experts have been helping businesses accelerate growth, enhance customer satisfaction, and improve bottom lines by automating and integrating processes that keep supply chain management running smoothly. Meet all your complex supply chain management needs with the help of our consultants. Talk to one now and let's get started.