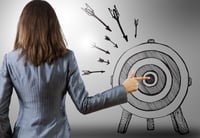 A request for a quote is a key step in closing a sale, especially for manufacturers. But if your manufacturing quotation process involves checking multiple spreadsheets and an email chain for price information, or using an old quote as a template to manually create (or populate!) a new one, or obtaining information that is only accessible so long as the right person is in the office and available to chat, you run the risk of creating inaccurate quotes that could lose business, or worse: profit.
Building a solid, accurate, and fast quotation process requires implementing manufacturing industry best practices and tools so you can continue to gain business and build profit margins.
A Process for Profit
Here are 4 ways to ensure your manufacturing quotation process is more efficient and more accurate:
Document the knowledge of experienced employees
When information exists only in the brains of employees and not on documentation that others can reference, companies run the risk of losing money on jobs. For instance, if you have an employee who is your labor requirements expert, and that employee is out of the office and unreachable, this may result in guessing on labor costs when creating a quote. When the contract is won, that labor cost is set, whether or not it is accurate. This may mean the company loses money in the course of completing the order due to lack of access to necessary information.
Best practice: Document the knowledge that resides with long-time employees relating to labor and other costs for completing various tasks. As each job progresses, record how long each task took and why. This ensures the information is easily accessible and knowledge is shared within your organization. Start to create a database of information related to various products and processes that can be easily referenced when creating a manufacturing quote.
Clarify actual costs
Costing errors can come from external or internal sources such as raw materials, shipping, waste, and overhead, among others. Typical external sources are from bid specifications that are vague and open to interpretation. Still, some companies will move ahead with a bid instead of getting clarification before completing the quote.
Best practice: Seek clarification on any ambiguous bid specifications. For internal costing, make sure raw materials are costed every time; never rely on past quotes for pricing. This also goes for shipping rates, which fluctuate. Account for material waste, especially if the work requires materials or operations that may incur higher waste than usual. Overhead costs are typically fairly steady; nevertheless, don't overlook them. Include any costs of meeting payment conditions, or to complete requirements for testing/inspection and/or to submit other documentation. Will the work require travel and lodging, site visits, or project review meetings? Also account for potential fluctuations in exchange rates. Finally, make sure your quote accurately covers taxes/duties.
Integrate product design tech into your manufacturing quotation process
If you've ever ended up with expensive "dead inventory," it's likely because of an error upstream during quoting and configuration. Humans may have a good understanding of options during quoting, but a single mistake can result in directing production to build an incorrect or unusable part.
Best practice: Use automated programs like Product Configurator to enable rapid and accurate manufacturing quoting and product design. This ensures that the process is structured, steps are not missed, and rules such as dependencies are enforced, for example, if you choose pump type X you can't have option Y.
Unify communication across teams
The manufacturing quotation process involves many departments that need to work together smoothly—such as sales, estimating, engineering, purchasing, and production—yet are often disconnected. This can result in lost sales, wasted time, and extra costs of materials and labor, all of which reduce profit.
Best practice: Have all your teams use one effective Enterprise Resource Planning (ERP) system. This enables them to collaborate in a data-driven manner, resulting in accurate, data-driven, and fast quotes, every time. It will also make everyone's lives smoother downstream.
Control Your Manufacturing Quotation Process With Help from PVI
Having control of your manufacturing quotation process means it will be efficient and profitable. Putting an automated system in place for quoting, product design, and more gives you that control, automatically preventing errors and sidestepping other pitfalls that can lead to diminishing margins.
That's where PositiveVision comes in. With decades of experience working with small and mid-sized manufacturing and distribution companies to help them find the right software solution, PositiveVision has what it takes to support your business too.
We assist clients in streamlining inefficient processes—such as quoting—by leveraging the capabilities of out-of-the-box technology such as SYSPRO ERP. SYSPRO's Industrial Machinery Software and Metal Fabrication Software, which includes Product Configurator and seamless CAD Integration, is designed to ensure your quotation process is as efficient and accurate as possible.
Let us help you integrate your ERP system for a faster, more accurate, and more efficient manufacturing quotation process. Talk to one of our software experts now.