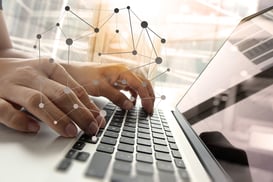 Manufacturers across the world are moving toward a paperless office by reducing paper costs, reducing papers that get lost, reducing human errors, reducing the need for filing cabinets, reducing the need to print, and reducing the amount of time it takes to find information.
How are manufacturers doing this? DASH!
Dash is a software company that is automating document management. With Dash, finding documents online is a snap! You can learn how Dash DDX works with SYSPRO by watching our recorded webinar.
Dash enables locating important documents with a single click. You can search, protect, and share any document or file; remotely access documents anytime, even from your mobile office; automate document capture and archiving; and instantly distribute documents to intended recipients. Have you ever followed the paper trail in your office? It can easily add up to miles traveled while in search of a single document. Manufacturers realize this motion and time contributes cost with little value. It's easy to conclude that automating the document flow will help these organizations become more effective.
Dash software helps countless companies across their entire organization, including their finance departments, customer service teams, human resources, purchasing departments, sales representatives, and engineering crews. Automating documents gives employee teams more time to do the work they do best. These teams can all work remotely yet still access the same information. This allows the right people to get to the right information at the right time. In the end, it saves companies time and money.
Going paperless also reduces your organization's risk of losing paper documents during a fire or other disaster. If you use a document automation system (like Dash DDX), documents are stored safely for you.
Manufacturing companies are finding their groove and ideal workflow. Dash is a critical part of that success!
What we heard in the marketplace is that small to mid-sized manufacturing and distribution companies throughout the USA and beyond were struggling to find a paperless solution. There were few good choices for document management.
Either use a low-end system that runs out of capacity quickly and has little room for growth or devote large budgets to the high-end systems. In both cases, no one seemed to cater specifically to the manufacturing or distribution company's needs, nor to the mid-sized user. So, document management for most of these companies remained, literally, in the file cabinet.
The Solution: An ERP-integrated document automation software for small and mid-sized companies that includes the "big league" functionality and scalability found in high-end systems but keeps both price and complexity at a level better suited for these more modestly sized organizations. Built from the ground up to work with most business software, document management software integrates seamlessly with almost any ERP system, as well as other business systems used by this audience. At the same time, it eliminates the risk of loss or damage of the information contained in those documents. As a green-minded solution, it also positively impacts sustainability efforts.
Watch our recorded webinar, SYSPRO Document Management with Dash DDX, to learn more!
About the Author:
Stephanie is the marketing guru at Dash. For over 20 years, Dash has been authoring, delivering, and supporting Dash DDX™, it's ERP-integrated Document Automation software, to small and mid-sized manufacturing and distribution companies throughout the USA and beyond.