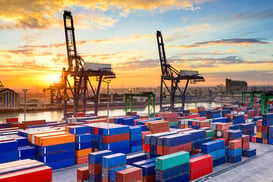 Supply chains are at risk from several factors, including:
A major cost-cutting drive to reduce costs by consolidating loads

Less efficient shipping routes

The United States-China trade dispute
Global supply chains continue to be at risk due to armed conflict and the resulting economic and geopolitical uncertainties.
The war and imposed sanctions have created a knock-on effect across the supply chain, and businesses are impacted by material shortages, material cost increases, demand volatility, logistics, and capacity constraints, as well as cybersecurity breaches. Even companies without a direct supplier connection in Russia or Ukraine may experience debilitating disruption across industries from energy to agriculture.
Supply Chain Disruptions for Manufacturers and Distributors Explained
European countries which import Russian oil and natural gas may be hard hit. On top of that, uncertainties over the conflict have led to higher oil and natural gas prices worldwide, even if additional supply outside of Russia comes online.
Rising oil prices are also having a cascading impact on supply chains in areas such as higher line-haul trucking rates and other transportation costs. Already, oil prices have reached their highest levels since 2014 and are expected to continue to rise. Russia is the world's third-largest oil producer and the second-largest foreign oil supplier to the US.
Transportation and logistics are key to a wide range of industries from processed food to advanced industrial manufacturing and particularly affect those that rely on inputs from many different parts of the world. Where energy extraction is upstream, and freight and transportation midstream, the impact of the military conflict may also be felt in industries where oil and gas are refined and used to make rubber, preservatives, plastics, containers, and many other products that play an important role in the agricultural and medical fields.
Severe shortages of hydrocarbon, critical minerals, metals, and energy can also be expected. Prices for those items will probably spike thanks to shortages as well as irrational buying and protectionism. This will in turn impact manufacturing operations up- and downstream as much as raw material mining.
Strategies to Deal with Supply Chain Disruption
The situation sounds serious, and it is, yet there are steps manufacturers and distributors can take to survive—and even prosper—in the face of these exceptional challenges. In the long term, supply chain leaders must increase resilience by balancing investments in dedicated teams, processes, and technologies that will enable their organizations to implement end-to-end risk management.
In the crucial short term, however, companies can navigate the risks by improving their visibility beyond their immediate suppliers and stocking up on key materials. The need for full visibility along the supply chain is critical as it enables manufacturers and distributors to adapt and adjust as effectively as possible, providing desperately needed certainty to their production planning processes. Optimum visibility levels can be achieved through technologies such as Enterprise Resource Planning (ERP), which integrates solutions such as Material Requirements Planning solutions, supply chain portals, and data analytics.
Here are a few more strategies to help with managing the supply chain and improving risk management techniques:
Reduce the impact of risks by

diversifying your supply chain

and create dual or multiple supply chains for critical components. Revisit your sourcing arrangements with suppliers, especially with a view to geographic location. Onshoring and Nearshoring comes into play here but be aware that it is a long-term strategy which requires a complete business model shift. Sometimes local capability needs to be developed, or the quality and cost don

'

t meet requirements.

Where possible, lock in transportation and shipping costs by partnering with third-party logistics companies to defray labor, warehousing, and transportation costs.

Consider holding safety stocks where applicable to prevent breaks in production.

Develop business continuity plans with your suppliers.

Cyber warfare may increase in multinational companies in retaliation against sanctions imposed on Russia. Put your logistics, supply chain, and procurement teams on high alert for computer viruses and increased phishing attempts.
The organization needs to give itself enough time to analyze and develop the second or third supply chains as these processes take a lot of time and effort, as well as carefully invest in the extra inventory. It needs to be a carefully considered strategy with, in most cases, a time-phased plan to implement.
ERP Means Possibilities for Manufacturers and Distributors
ERP, underpinned by a robust MRP, with supply chain portals and data analytics solutions—are key to identifying and making the most of the opportunities which will inevitably come out of the current hardships brought about by the military conflict.
There's no doubt the disruption will offer companies opportunities to improve their supply chain systems so they can better predict future issues. Again, the biggest factors here are supply chain visibility, resiliency, and flexibility. Those which are flexible enough to pivot their offerings on short notice will always fare better.
We all know things are going to change. Having the technical skills and capability to manufacture items that address the shortfalls will be a huge plus. And when the conflict ends, those developments will still be there to create even further competitive advantage.
Consider that substitute products are often developed in times of hardship, and that in many cases the world doesn't revert to the products that were used in the past. For example, aluminum was in short supply during World War II. The British adapted by building the de Havilland Mosquito, a combat aircraft constructed mostly of wood. Similarly, Land Rover's serendipitous use of aluminum in response to a shortage of steel after the war has stuck: five of their seven series of vehicles are aluminum bodied even today.
Toyota also responded to vast shortages in Japan after World War II by developing an entirely new production system (the Toyota Production System or "Lean manufacturing") that aimed to use the least amount of material and reduce wastage. That system has influenced production systems across the globe.
SYSPRO ERP from Positive Vision to Manage Your Supply Chain
If you're wondering how to overcome supply chain challenges, the answer is SYSPRO ERP from Positive Vision. You can get a customized solution based on your company's needs. A SYSPRO ERP includes only the modules you need and nothing you don't want. Choose from more than 50 different modules for a solution that fits your current needs. As your business grows and changes, you can add more modules or change your solution to make a better fit.
Find out more about SYSPRO ERP and Supply Chains by downloading this free e-book now. You can also contact us to speak to a product expert and book a demo.